Koh Phra Thong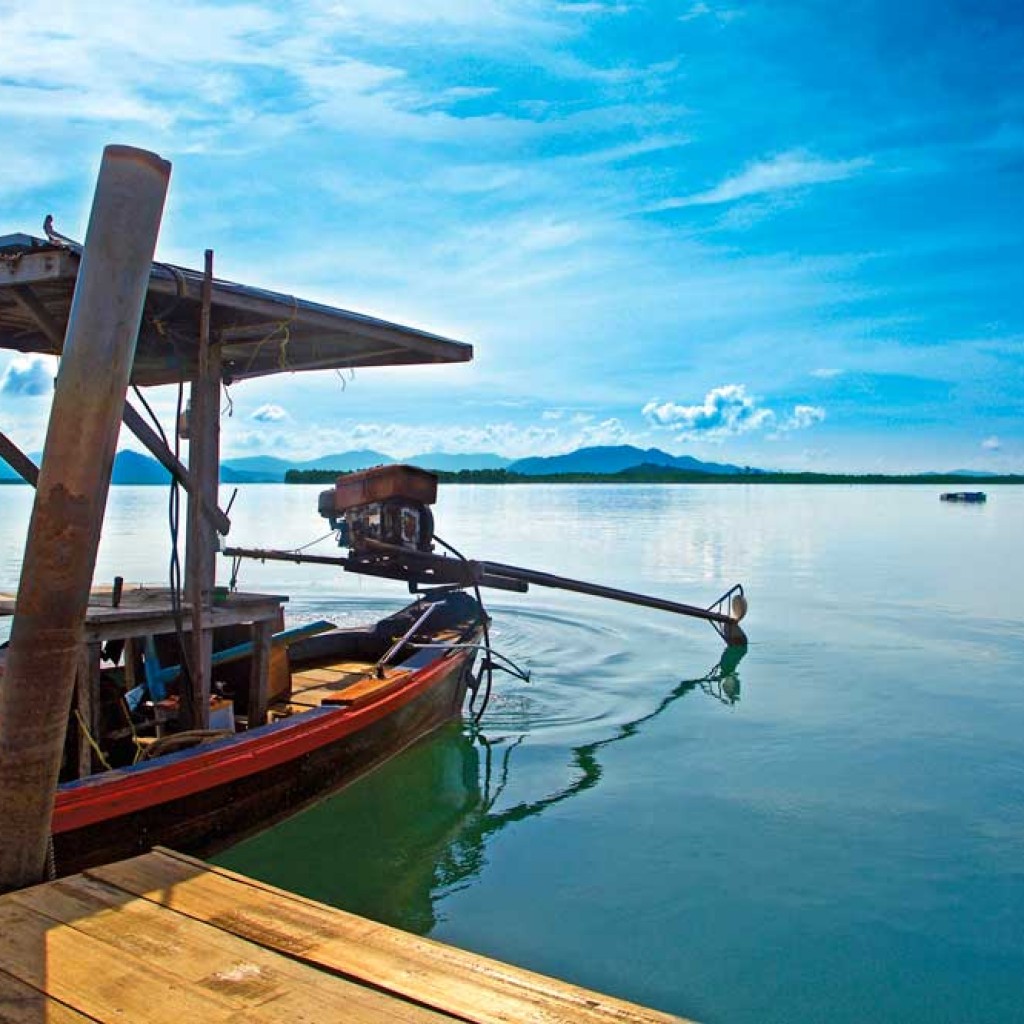 The Island That Time Forgot
Many visitors love the idyllic, secluded beaches and charming rural scenery of Kho Khao Island, about a ten minute ferry ride from the mainland, about 25 kilometres or so north of Khao Lak.
Yet what most visitors don't know is that just to the north of Koh Kho Khao lies another island of such exotic beauty, diverse habitats and rare natural treasure that in 2001 it was awarded National Park status and is a shining example of bona fide, sustainable eco-tourism.
Welcome to Koh Phra Thong – the island that time forgot.
Legend has it that Koh Phra Thong or "Golden Buddha Island" was named after a golden statue of Buddha that was enshrined here before mysteriously disappearing over a century ago. Despite the statue's absence, today there still remains something golden, precious and timeless about this magical island.
Touring the island reveals a one-of-a-kind ecosystem home to several rare species of flora and fauna, some of which are found only on Koh Phra Thong. This, along with exotic wildlife and a unique array of ecological zones make Koh Phra Thong a "biodiversity hotspot."
The western coast of Koh Phra Thong is lined by golden, sandy beaches fringed with palms and casuarina pine groves where sea turtles lay their eggs. Snorkeling or scuba diving here reveals vibrant coral reefs supporting a variety of colourful reef fish and other marine life.
The island is also a birdwatcher's paradise, with over 100 species of birds – including the endangered and prehistoric-looking Lesser Adjutant Stork and the equally-exotic Oriental Pied Hornbill.
The small population of humans that call Koh Phra Thong home are proud stewards and defenders of their natural paradise and share a common commitment to protect the island's uniqueness by fostering the growth of sustainable, low-impact tourism on the island.
Most of these islanders live at Ta Pae Yoi, a small community by the pier where many of the villagers still live in traditional wooden homes on stilts over the water and where the men continue to work as fishermen and boat-builders, just as their forebearers did before them.
At present there is very little development on the island, with just a scattering of secluded bungalow resorts found along the western coastline.These are orientated towards sustainable tourism and built with local, renewable resources that blend into the existing landscape.
'Much quicker to get to than the Similans…and without the crowds'
Until recently a visit to Koh Phra Thong involved a long drive up the coast to Khura Buri followed by a longtail boat ride to Koh Phra Thong.That situation has now changed as local speedboat operator Similan Charter &Tour has just launched a direct Khao Lak – Koh Phra Thong day tour – meaning you can be on this magical little island in just 30 minutes or so longer than it takes to get to Koh Kho Khao.
We joined the trip for a day and were picked up from Khao Lak and driven by minibus to the company's private jetty in Ban Nam Khem where there was just time for a coffee and to meet 'Mr T', our multi-lingual guide for the day before we set off.
Moments later we were passing the Ferry pier at Koh Kho Khao and racing along the mangrove-lined waterways that separate that island from the mainland. In the lee of the island the water was flat calm as we sat up the front of the boat enjoying the sunshine and the warm breeze on our faces.
Less than half an hour later we had rounded the northern coastline of Koh Kho Khao and as the waterway widened into almost open sea we could see the long, thin silhouette of Koh Phra Thong just ahead of us.Ten minutes later we were there – the captain expertly easing the speedboat alongside the concrete jetty at the end of the Ta Pae Yoi pier.
A small fishing village,Ta Pae Yoi is home to many of the islanders on this sparsely-populated island. We spent a few minutes admiring the turtles the villagers were rearing in a netted compound under the jetty, ready to release back into the ocean when they were strong enough – with the next scheduled release date planned for December 26th, to commemorate the 10th anniversary of the 2004 Tsunami disaster that so devastated this community all those years ago, resulting in many of the survivors relocating permanently to the mainland.
After a brief walk around Ta PaeYoi we had our first encounter with a 'Tak Tak' – the vehicle that would take us across the island.These odd-looking machines feature bench seating with a thatched roof above, attached to a homemade chassis and a noisy, exposed tractor-style motor. Curiosity turned to nervous laughter as a smiling Mr T informed us that Tak Taks did not, in fact, ever have any brakes!
We then began a memorable safari westward through the island's four unique ecological zones: mangrove, marine jungle, savannah, and finally the coastal zone.We made occasional stops to photograph and learn more about interesting aspects of each zone – from wild cashews and peeling, white Melaleuca (paper bark) trees to rare orchids and ant-eating flowers.
By noon we had arrived at a beautiful bay where we were greeted by the friendly staff of the Prathong Oasis resort. A buffet lunch of Thai and Western favourites followed, enjoyed beachside beneath the welcome shade of the Casuarina trees that fringe this spectacular coastline.
After lunch the afternoon was ours to enjoy and there were lots of options – a snooze in the hammocks strung to the beachfront trees, exploration of the deserted beaches and adjacent coves, swimming or snorkelling.
We chose to snorkel and were taken by speedboat to one of the two uninhabited islands just offshore and given masks, snorkels and fins. Here, Mr T showed us corals, reef fish and other marine life that have made the Andaman Sea so popular with underwater enthusiasts worldwide
A couple of hours later after more refreshments and a sunbathe on the beach it was time to head home by speedboat straight from the beach, along the deserted west coast of the island. Friendly fishermen trawling nearby waved as we passed them by and as the mountainous island of Koh Ra loomed ahead of us we veered away to the east, hugging the northern shoreline of Koh Phra Thong.
Soon we were once again passing Ta Pae Yoi village and beginning the picturesque return cruise along the mangrove-lined waterways of Koh Kho Khao's eastern coast.The boat boys brought us soft drinks and fresh fruit to enjoy and forty minutes later we were back at the dock at Ban Nam Khem. There we were reunited with our shoes (all neatly laid out on the dock for us!) and our tropical island adventure was at an end.There was just time to reflect on the day over a quick coffee before boarding the minibus for our return to Khao Lak in time for dinner.
Booking Your Trip to Koh Phra Thong
Our trip to Koh Phra Thong was arranged by Similan Charter & Tour who operate trips to the island every Wednesday and Sunday during the high season (December to April).
For avid beach and snorkelling fans who don't mind a longer boat ride the company also offers a combined Koh Tachai – Koh Phra Thong day trip every Tuesday, Thursday and Saturday.This includes a morning visit and snorkel at the picture-postcard island of Koh Tachai (the 'Maldives of Thailand').
To book either tour – or to arrange an overnight or longer hideaway in ensuite bungalows or deluxe, double-bedded beachfront tents on Koh Phra Thong (with transport to and from Khao Lak included) visit the company's website or call them direct on 086 950 5590.
Where is Koh Phra Thong