A Trip to Koh Tachai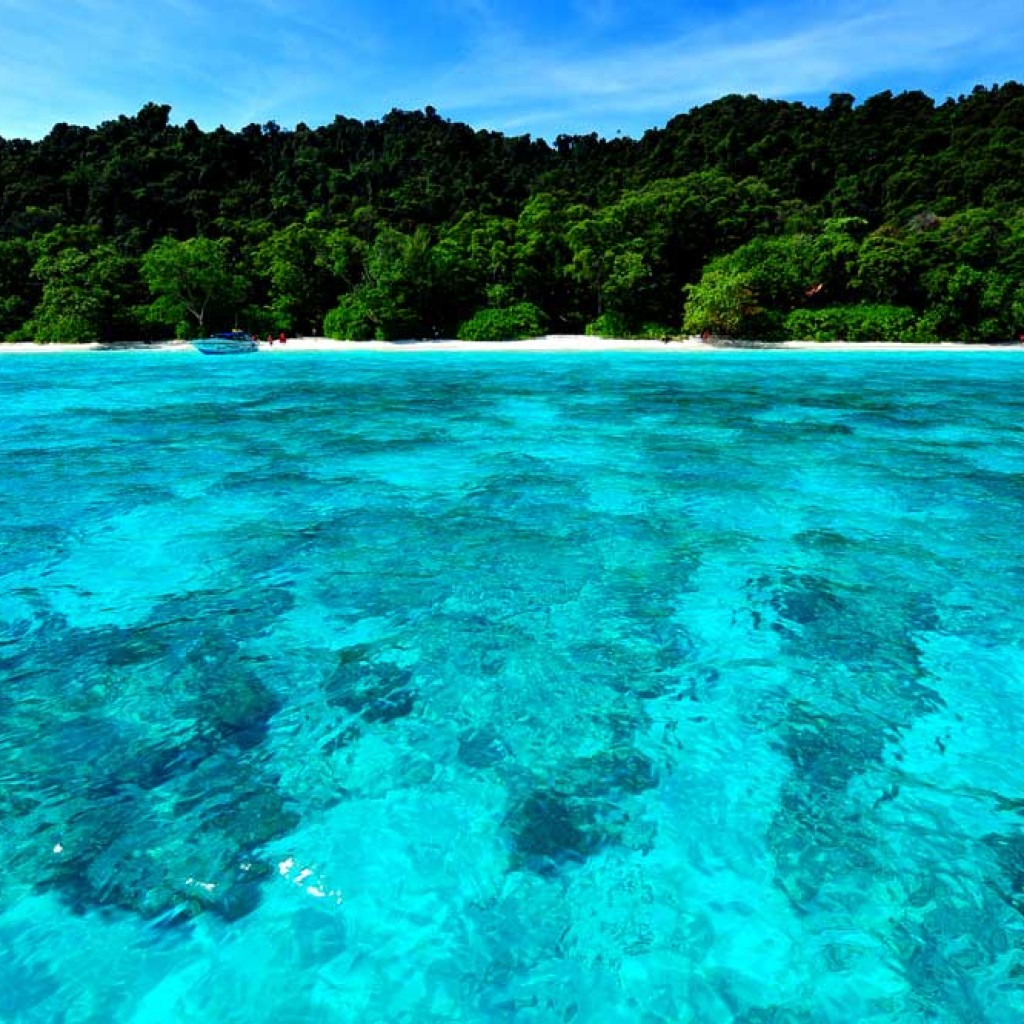 A trip to Koh Tachai on the Similans …
"the Maldives of Thailand"
An unforgettable day on Koh Tachai
I
f your bucket list includes, like mine, spending a day on the perfect tropical beach then after a visit to Koh Tachai it's one more thing you'll be able to check off the list.
Tachai has everything you would want on a perfect desert island – powdery, snow-white sand, clear turquoise waters and even an inland 'jungle' to trek through and explore.
Our day was perfectly managed by Love Andaman, the premium island tour specialists who will pick you up in the morning from your hotel and return you safe and sound in time for dinner.
A very eco-friendly outfit, we even had to leave our shoes at Love Andaman's private pier when we left on the 90-minute speedboat trip to Koh Tachai, which added to the feeling of going native!
When we arrived at the northern end of the 800m main beach it felt like we were on the set of the Tom hanks' movie 'Castaway' – it really is that breathtaking.We decided to go off in the boat again to a nearby snorkel site for some excellent snorkeling (think crystal-clear water, corals, clown fish etc.) while the families in the group preferred just to stay at the beach and swim with their kids.
Around midday we had a delicious lunch – a choice of five dishes with fresh fruit, muffins and even coconut ice cream for afters! Later we joined the optional jungle walk (rather than the more strenuous hike to the viewpoint) and our friendly guide Ken even found us three examples of the island's most famous resident, the 'hairy Mountain' or 'Chicken' Crab (they make a noise like a bird!) hiding in tree roots along the way. These feisty critters are usually seen here, but extremely rare elsewhere, apparently.
The walk ended conveniently by exiting the jungle onto the beach just a few hundred metres south of where it had started, so after a lazy walk back along the powdery sand we had a refreshing swim (and, I admit, a short nap!) before in what seemed like no time at all we were gathering up our belongings and heading for home.
Love Andaman promises in their tour itinerary to send you away after the trip with "a backpack full of memories" and with- out doubt Koh Tachai is a magical, must-visit island…as I'm sure anyone who has ever had the privilege to visit there will agree.
It is one of those rare places you visit in life that you can simply never forget – and would never want to.
Now then, where did I put that list?