Mars Bar & Café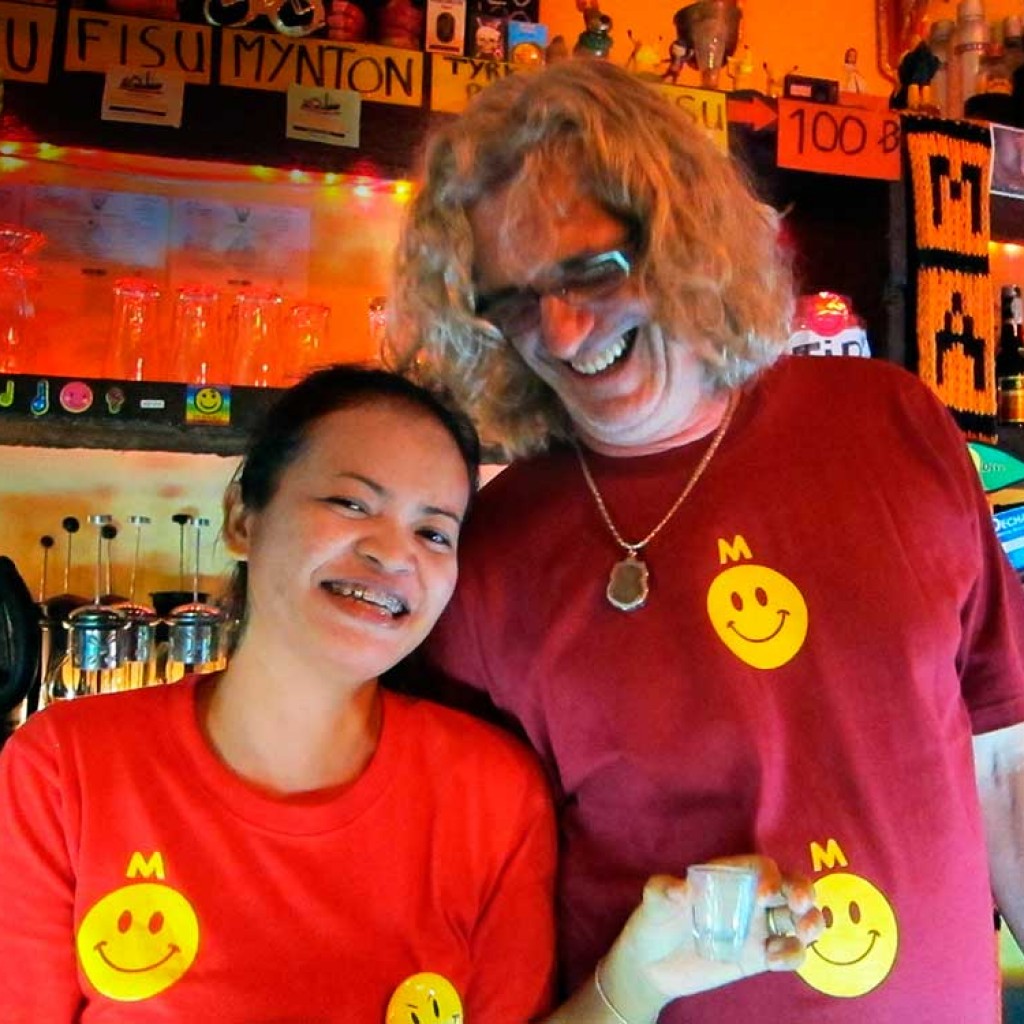 Open for a couple of seasons now, Mars Bar is the brainchild of long-term Khaolak resident Marcel Evans (or 'Mars' as he is known to one and all, hence Mars Bar…geddit?) and his lovely wife Khun Maem.
Located alongside Highway 4 in Bang Niang, just a short stroll away from the Police Boat memorial and the market, Mars Bar is one of Khao Lak's most popular hangouts…and as soon as you walk in it's easy to see why.
YOUR HOSTS
Originally from Derbyshire in northern England, Marcel's easy charm and relaxed good humour creates an almost instant camaraderie with new customers, to the extent that even after a first visit it's not unusual for patrons to leave feeling like they just made a new best friend. That's Mars for you, and explains why the man is a legend amongst his band of loyal regulars.
As well as being a fun guy to hang out with, Mars' genuine concern for taking care of his customers really shines through. With Khun Maem's help, and assisted by their friendly staff, you really get a sense that nothing is too much trouble for them when it comes to making customers happy.
THE VIBE
Always relaxed and friendly, and often great fun. Whether it is just a drink and chat at the bar, an informal meal or some quality time on the sofa reading a book or watching the latest sports on TV – as Mars likes to say, there's something for everyone.
And if you ever tire of the usual beers, spirits, soft drinks and cocktails on offer, there are also Mars' infamous homemade shooters to consider – if you are brave enough!
THE CROWD
An eclectic mix of local expats, tourists and regulars. Marcel prides himself on the fact that absolutely everyone is welcome to join the fun at Mars Bar – any age, any style, from anywhere. So don't be surprised once there to overhear a Finnish Dive Instructor conversing in English with a Korean honeymooner on the merits of the English Premier League, for example – it happens!
THE FOOD
Dining at Mars Bar is an informal and unpretentious affair consisting of simple, wholesome 'pub-style' dishes served with a smile.
Of course, it wouldn't be Mars Bar without a few little surprises. Example? How about one of Mars' best-sellers, a Massaman or Thai Green Curry pie with French fries (or 'chips' as Marcel insists on calling them).
The end result is a menu that appeals to both expats and visitors, as well as several Thai regulars.
OUR VERDICT
Every visitor to Mars Bar & Cafe is made to feel very, very welcome. Add to that casual dining, funky decor and some great music, and what's not to like? The bar always ranks highly on review websites and is usually terrific fun, especially after dark.
GETTING THERE
Head north from Khao Lak town centre (Bang La On) on Highway 4 (the main road) for about 1.5km until you pass the R.T. Hotel on your right . Mars Bar is another 150m or so on the right before the bridge – just look for the 'smiley face' sign!
Watch out guys…it's  LADIES NIGHT!
Every Thursday it's Ladies' Night at Mars Bar – which means halfprice spirits for the ladies…and for any gents who make the effort to dress up as one for the night!
Basically, it's all a lot of fun and a great atmosphere and Mars invites you to pop along any Thursday night and check it out for yourself.
Mars Bar & Café
Bar serving food
Open daily 09.00 – 01.00hrs
Website: www.marsbarcafe.com
Phone: 084 746 5951