Baan Srimuang Restaurant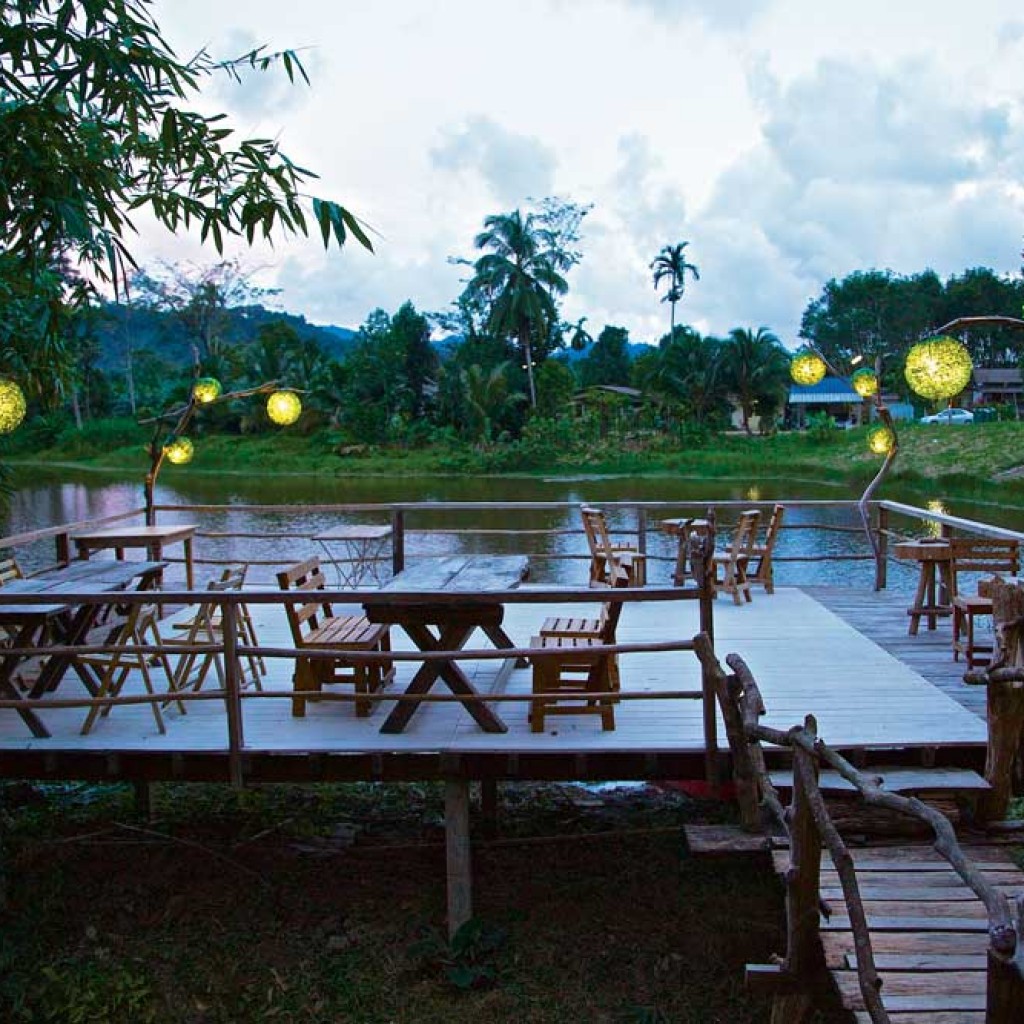 Chic on the Lake
Take a piece of family land next to water, use local renewable timber and resources to build a homemade-style restaurant, take a lifetime's experience of cooking delicious, traditional Thai food and family recipes, get creative with presentation and voila, you are now ready to get Chic on the Lake!
A short drive north from central Khao Lak lies Khuk Khak, our main municipality area and near to the sole formal government building there lies a small lake, nestling at the foot of rolling green hills and surrounded by coconut palms, bamboo and light jungle – and across the still waters of the lake lies Baan Srimuang Restaurant.
This simply beautiful setting is easily reached from the main highway and well worth a visit if you are looking for somewhere unique and rewarding to eat at an affordable price.
The Location
Crossing a small bridge of the home made variety – with rough wooden planks and erratic woven branches for hand rails – a large sign welcomes you to Baan Srimuang Restaurant with the bold statement "Chic on the Lake". Twinkling lights beckon you on and you walk on a few more steps into the jungle, intrigued to learn more.
Woven in amongst the trees are small paths with romantic tables and chairs tucked here and there and a small bar with more seating on a veranda overlooking the lake.The kitchen is tantalisingly located at the entrance way. It's a small open sided brick hut with a central preparation area and baskets brimming with fresh, colourful local vegetables, fruits and exotic herbs.There are pots of sauces everywhere and from the aromas in the air you know this is where the magic is made.
The centrepiece of the restaurant is a large, raised dining platform built directly over the lake which offers a commanding view over the water.There are plenty of tables for couples or larger groups. Everything is very natural looking and much of the furniture and restaurant features are made from the forests renewable resources. Every feature fits seamlessly into the surroundings adding to the ambiance.Tree trunks, branches and coconut shells are used randomly for decoration giving Baan Srimuang a rustic, organic feel.
Anyway, all this is immaterial, it's just setting the scene, in fact, for something a lot more special.The food is about to arrive and inject a whole lot of Chic into this charming lakeside retreat.
Chic Food
In keeping with Baan Srimuang's theme the food is presented on the jungle.There are no plates or trays used.The food is served on wooden tree trunks with old gnarled branches supporting sauces and other essential trimmings. Main dishes are contained in carved out fresh local fruits or in edible rice paper baskets. The effect is beyond chic, more like 'Wow!'.
If you're of smart phone age and must photograph your food before you eat it then this is the place to snap away – and guarantee hundreds of likes on your Facebook feed!
What's more,
"the presentation is always different, so you won't ever be served the same arrangement twice," explains Khun Nop,
the chef/owner and mastermind behind the Baan Srimuang restaurant which he is rightly proud to have built with his own hands on land owned by his grandmother.
Everything looks so good you almost don't want to disturb it, but then watering taste buds rule the moment and in you go!
You might expect the food could not possibly taste as good as it looks , but it does. Khun Nop is a seasoned restaurateur – with years of experience working as a Chief Steward in several of the region's top resorts, including Khao Lak's very own The Sarojin as well as the exclusive Rayavadee in Krabi.
Fresh produce and seafood is cooked and prepared to perfection by Khun Nop himself, and the sauces were all excellent – you simply won't be disappointed with any aspect of the meal.
A Sample of Chic
Mango Salad. Grated fresh mango, shallots, cashew nuts, lime juice, palm sugar, fish sauce topped with fresh spicy chilli and coriander all served in a pineapple.
Barbecued Andaman Squid. Barbecued squid with garlic, shallots, black pepper, salt and crispy noodles. Seafood sauce of garlic, coriander root, sugar, salt, fish sauce and palm syrup topped with chilli and coriander served in a hollowed out papaya.
Barbecued Chicken with fish sauce, garlic, sweet basil leaves served in a fried rice paper basket.
Guung Sarong (Shrimp in a 'Sarong"). Fresh white prawns wrapped in rice noodles, marinated in garlic, pepper, sesame oil, coriander root and soy sauce, deep fried and served with sweet chilli sauce.
How to Get There
Head north on Highway 4 from central Khaolak and pass the PTT Gas Station on your left.Take a right turn immediately after you see the Police Station on your right and drive under a large archway down this road for another 100m or so before turning left and passing a large white government building marked by plenty of Thai flags. Continue 50m on and you will see the lake and Baan Srimuang Restaurant on your left.
Open daily 11.30 to 22.30 hrs.
For reservations call Khun Nop direct on 082 817 9155.