Bavaria House Jane Isaan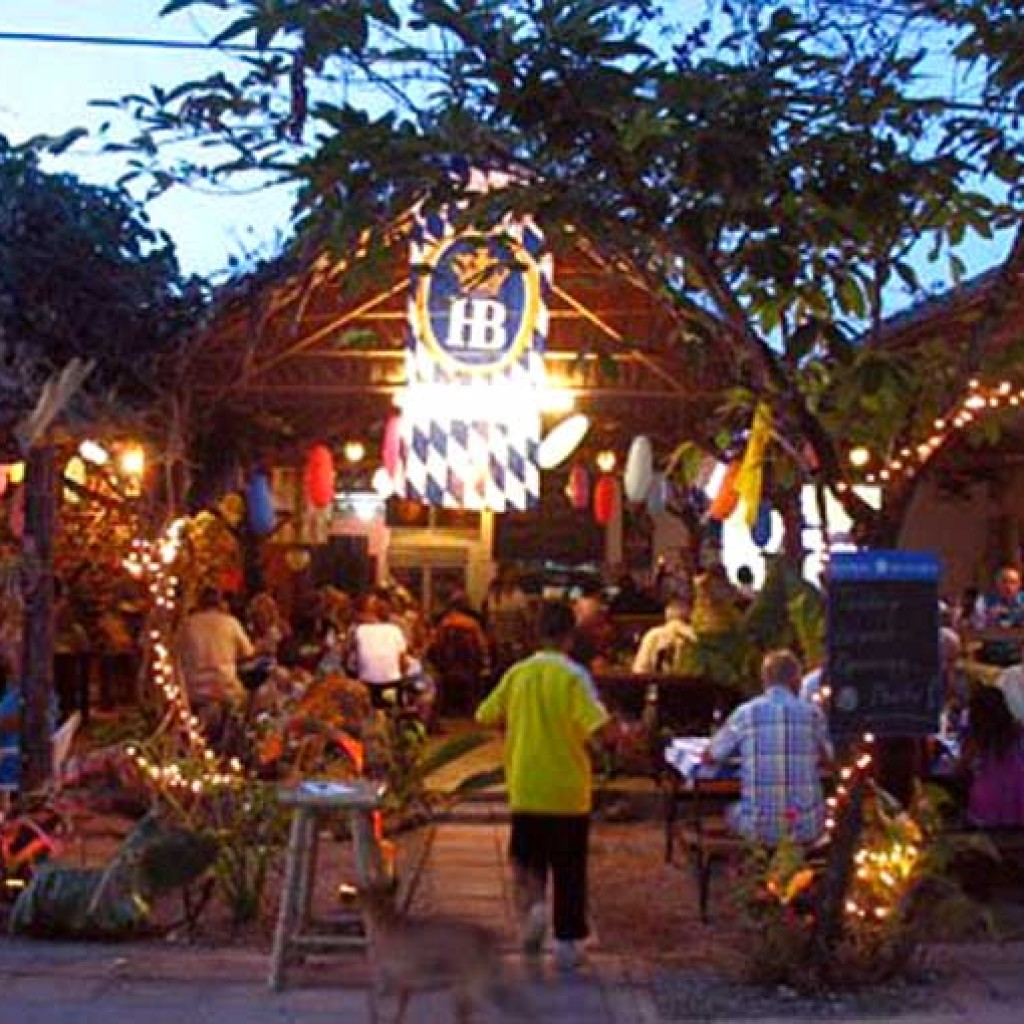 F
amily-owned and operated, the Bavaria House Jane Isaan on Soi Bang Niang ('Food Street') is a classic case of East meets West, both in terms of the menu offered and the family- oriented management style.
Owner Tom is a likeable "Bavarian" who originates from a well-known family in the restaurant business. His wife Jane hails instead from northeastern Thailand (or 'Isaan') and learned the secrets of cooking delicious German cuisine from Tom's mother, over a six-year period.
FOOD
Apart from typical German dishes like schnitzel, goulash, roast pork and cheese noodles, a variety of truly authentic north-eastern Thai dishes are ser ved. A highlight is the grilled chicken barbecued in "traditional German" style, but then served "Thai-style" with seven different herbs. Another must try favourite on the dessert list is 'Grandma's cheesecake'.
A range of Arabica coffee is served that rivals for quality and taste any that you might find in Germany or Austria.We should also mention Tom's herbal brandy,"Khao Lak Master", which is served after meals, and has achieved cult status with many regulars.
DECOR & VIBE
In keeping with Tom's Bavarian roots the decor is simple and unfussy. An open-sided eating area features a mix of bamboo and wooden tables amid clusters of tropical plants. Overall the atmosphere is one of friendly functionality.
A highlight for sports fans is the large-screen TV in the bar area where Tom shows live Bundesliga soccer and Formula One races.
SERVICE
Tom oversees an efficient 'front of house' ably assisted by local staff whom he proudly tells us have worked with his family from the restaurant's opening day.Tom's two daughters Jenny and Jody also regularly help out whenever needed. Tom is also a great source of information and tips about the region and offers some unique local tours.
VERDICT
Open since 2009, the 'home away- from-home' family atmosphere and good food has established the Bavaria House as a popular dining choice for a German/International clientele, both young and old. Well suited to families with children.
Bavaria House Jane Isaan in BANG NIANG, Central Khao Lak
Open daily from 12.00 – late daily
Phone: 081-091-3281
Website www.bavariahousekhaolak.com
GETTING THERE
Heading north from the town centre on Highway 4, turn left immediately after you pass the Bang Niang market area and '7-11' store, down the small Bang Niang Beach Road ('Food St.'). The Bavaria House is about 300m down the road on your right hand side.