Meet the Chef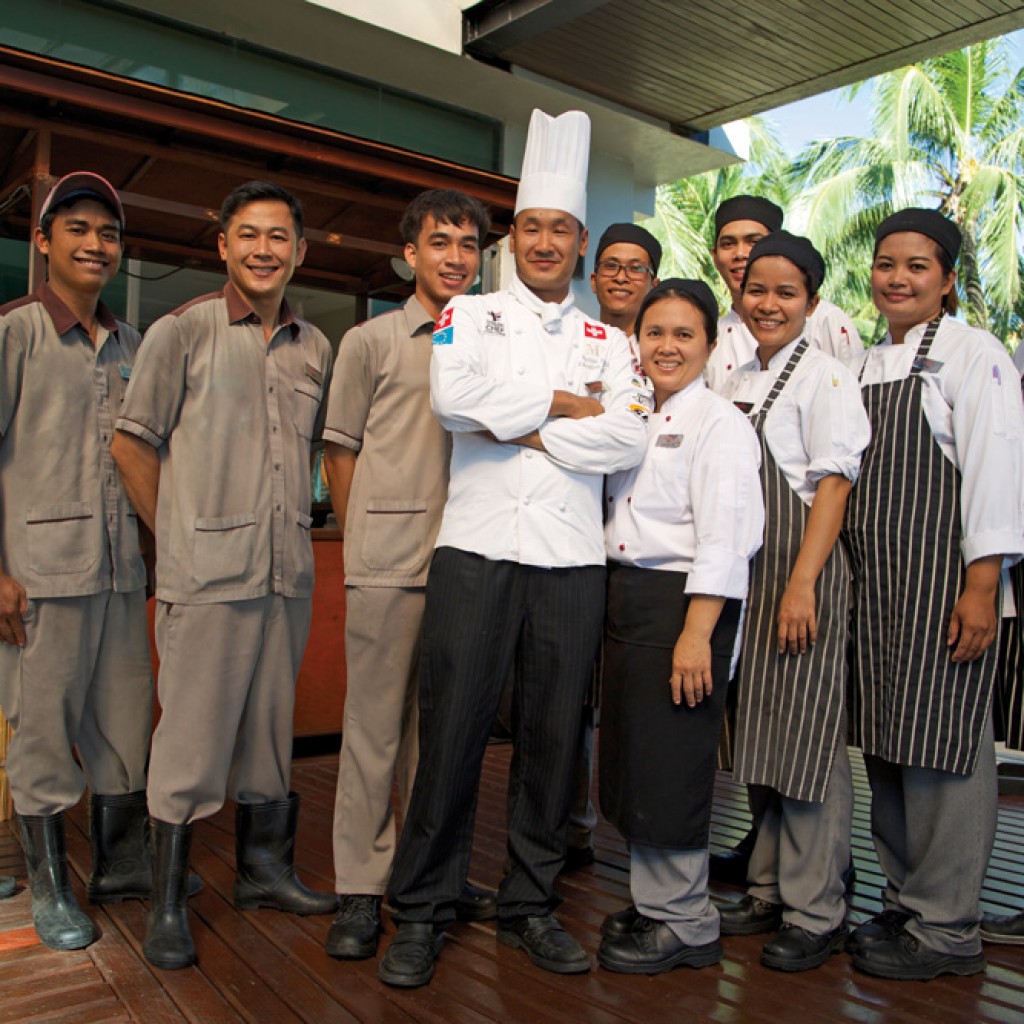 Mattias Pawlik, Executive Chef
Sassis Beach Restaurant & Bar, Bang Niang Beach, Khao Lak…
I
was a little confused on first meeting Chef Mattias, the new Executive Chef at Sassis Beach Restaurant & Bar at the Ramada Khao Lak Resort.
The name had suggested I was meeting someone from Germany or Switzerland. But meeting Chef Mattias in the lobby at the Ramada I found myself shaking hands with someone from Thailand named Mattias Pawlik.
He then asked me if I spoke German, which confused me even more! 'Er…ein bisschen' I stuttered in reply (my way of saying let's stick to English, please). So we continued our introductions, Mattias in Swiss-accented English.
So now I was thinking Mattias had obviously studied in Switzerland and had quite liked the name Mattias and had kept it as a nickname. Not actually the case as I was soon to learn.
I like surprises, that's why I generally avoid any background research before heading out with my note pad and camera.
We headed to the kitchen at Sassi's Beach Restaurant at the Ramada for our planned photo shoot. Chef Mattias entered the kitchen with the expected air of authority of an Executive Chef.
He issued a couple of orders to his staff who then busied themselves preparing various ingredients for one of the chef 's signature dishes. Surprisingly all this was conducted in English, this was getting intriguing.
The journey that led to Khao Lak
Chef Mattias had been working at a sophisticated hotel in the mountainous Bernese Oberland region of Switzerland. Not just a five star hotel, the Victoria Jungfrau is a five star superior hotel. It was here that Mattias was approached by Kuoni, a British luxury travel agent who wanted an executive chef from Switzerland to help train the kitchen staff at a newly-opened hotel in Khao Lak, the Sands.
Chef Mattias checked with his director at the Victoria Jungfrau if this would be possible. His director agreed but told him he must be back in Switzerland two weeks later.This he was, but his experiences in Khao Lak were the start of a new direction in his life, and a new love affair.
'This is the place!'
Kuoni and the Sands paid the flight from Zurich to Phuket. Not one week had passed and Chef Mattias already had the feeling he had fallen in love with Khao Lak. "This is the place," he said to himself, and likens the feeling he had to that of meeting a new girlfriend for the first time. Mattias did return to Switzerland as he had promised, but only to apologise to his director, hand in his notice and prepare his papers to return to Thailand.
On his return Mattias worked for the Katathani Group as Executive Chef at the Shore, Katathani. Under his new contract he had to work most of his time in Phuket with only two days work at the Sands in Khao Lak. Finishing his shift there on Thursday Mattias would head straight to Khao Lak. He would then work Friday and Saturday at the Sands and spend his day off on Sunday here too, before returning to Phuket as late as he dared on Monday morning!
The dream job
Whilst back in Switzerland in May 2014 for a series of family celebrations, Chef Mattias was contacted by the Ramada Khao Lak resort and offered the Executive Chef position at Sassis Restaurant. A position that would allow him to live full time in Khao Lak.
Naturally Mattias accepted and was thrilled to be heading back to Khao Lak. What's more, he absolutely loves his new job and the team he is working with.
"I am very happy to be working for the Ramada Group in Khao Lak",
he explains. conveying the feeling of a man who has really found his place in the world
'The people here are lovely'
All in all Chef Mattias has spent one and a half years in Khao Lak to date. As we already know he feels perfectly at home here, but why? It's mainly because of the people here in Khao Lak say Mattias. He's spent time in other par ts of Thailand, namely Bangkok, Chiang Mai and Phuket but it's the small town appeal that draws Mattias to Khao Lak,time in other par ts of Thailand, namely Bangkok, Chiang Mai and Phuket but it's the small town appeal that draws Mattias to Khao Lak,
The town still has that community feel to it, he says. People here still help each other. In his Executive Chef position, Mattias is still keen to learn more and happy to swap expertise with other chefs in the region.
Giving Back
Mattias is also good friends from Tom from Bavaria House in Bang Niang.Tom is the founder of Ride 4 Kids, a growing group of motorbike enthusiasts who meet once in a while to raise money for local children in need and deliver supplies by motorbike to local orphanages. Mattias is an enthusiastic supporter ofTom's project and has participated in the ride on two occasions so far – and he tells me why.
You see Chef Mattias was born in a children's home in Bangkok where he spent the first three years of his life. At which point he was adopted and moved to be with his adoptive family in Switzerland.
He's had a wonderful life so far because of this, but not wanting to forget his roots he wants to give something back hoping to improve the quality of life for local children in need – and he fully understands the challenges they have ahead of them.
Home Sweet Home
As we are wrapping up the interview I ask Chef Mattias if there's anything else he'd like to tell me about himself or his life here in Khao Lak, and he smiles broadly 'Yes!' he says excitedly, beaming at me across the table,' yesterday I just bought my first house!'.Where? "In Khao Lak, of course!" he smiles at me, bemused at the question.
Meet the Chef
Chef Mattias is not only a really nice guy he is an extremely accomplished chef and invites you to drop by Sassis to say 'Hi!', and to try his new signature menu , served daily at Sassis Beach Restaurant at the Ramada Khaolak Resort in Bang Niang.