Sun Ray Restaurant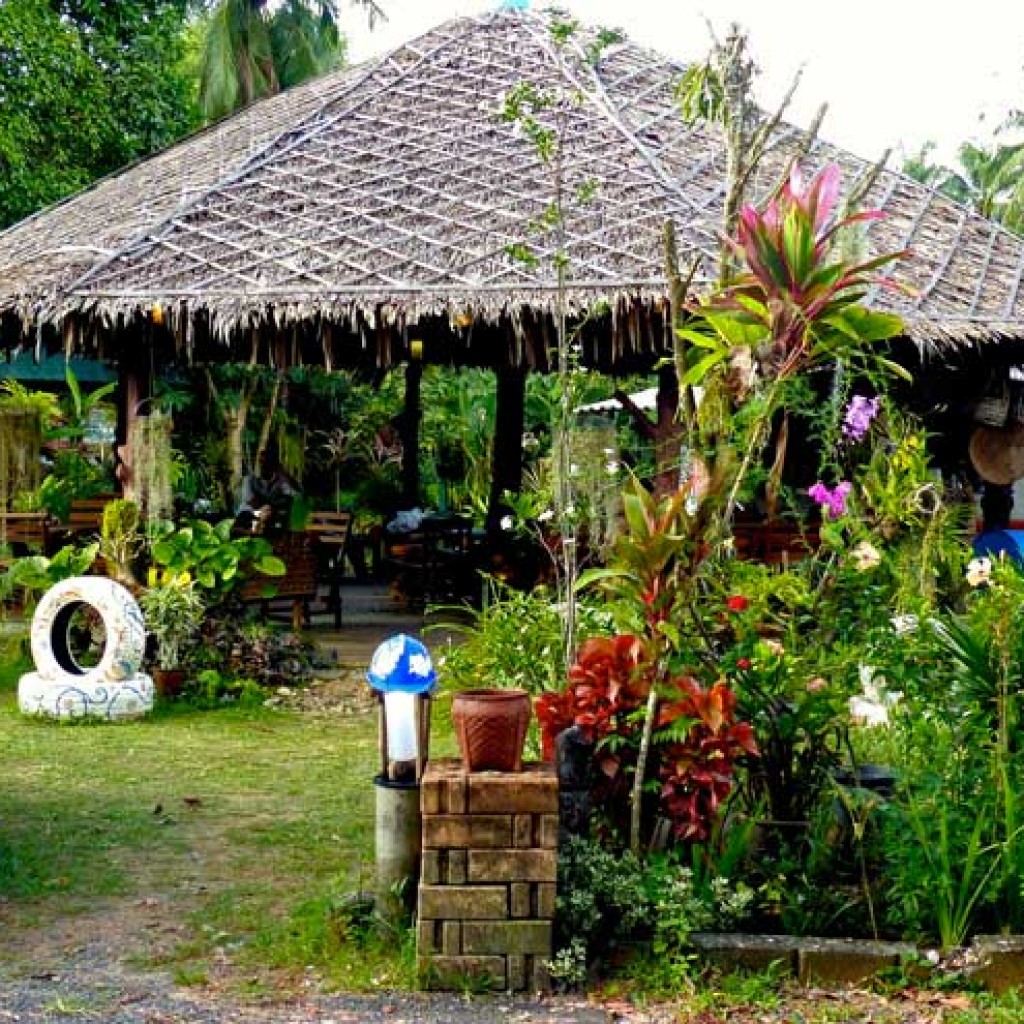 Regular visitors to Khao Lak may well have experienced the great food that awaited diners at the Sunset Bar (at the Southern end of Khuk Khak Beach) when talented chef/owner Khun Nop was in the kitchen.
What readers might not yet know is that Nop – together with his equally capable cousin Khun Yui – has recently moved and opened a new venture, The Sun Ray Restaurant, in a lovely garden setting in Khuk Khak village. It is their intention to open all year, appealing to locals and visitors alike.
FOOD
As before at the Sunset Bar, diners choose their dishes with friendly assistance from Nop, who tailors his suggestions to reflect diners' personal preferences and palate. All produce is fresh and sourced locally, so if you have fish or tiger prawns, for example, then prices will vary according to the current market price. Beer and soft drinks are available and Nop tells us you are very welcome to bring your own wine.
Appetisers typically include Nop's speciality mixed chicken and prawn satay and a local dish of edible leaves which you fill with various homemade sauces and fillings.The house speciality is a deliciously meaty fish dish with spicy sweet and sour, tamarind and 'secret' recipe sauces on the side – and you may wish to try the BBQd tiger prawns or the excellent fried rice with vegetable and cashew nuts.To finish mixed fresh fruit with two types of mango comes highly recommended.
DECOR & VIBE
It is not just Nop and Yui's culinary skills that attract guests to the Sun Ray, it is also the decor. Everywhere you look the imaginative use of natural materials is obvious, and Nop loves to collect driftwood, coconut shells, fallen trees and just about anything else that his fertile imagination sees a use for, as furnishings or tableware.
Not to be outdone, cousin Yui has gone one step further and even managed to recycle and decorate several old tyres to contribute seamlessly to the overall theme of the restaurant – in a way so unexpected that you really must see it for yourself! And whilst the restaurant decor might be deliberately rustic in style, the same cannot be said of the fine table cloths and silver service utensils gracing every table – another of Nop's trademarks.
THE VERDICT
The Sun Ray Restaurant continues to build on the winning formula of the original Sunset Bar – great food and friendly service in an informal atmosphere.Well worth a visit.
The Sun Ray Restaurant in KHUK KHAK, Northern Khao Lak
Open daily from 11.00 – late
Phone: 082-817-9155
E-mail: yotsagorn@hotmail.com
GETTING THERE
Head North from central Khao Lak on Highway 4. Pass Bang Niang market on your left and drive a kilometre or so to the very end of the strip. On your right hand side you will see a 7-11 store and then the entrance to the Bus Station/fresh market. Immediately after this (and just before the highway bends slightly to the right) take the left turn signposted to Orchid Beach Resort. Drive to the 'T' junction at the end of this road and turn right. Sun Ray is 50 metres on your left.