Lord of the Ring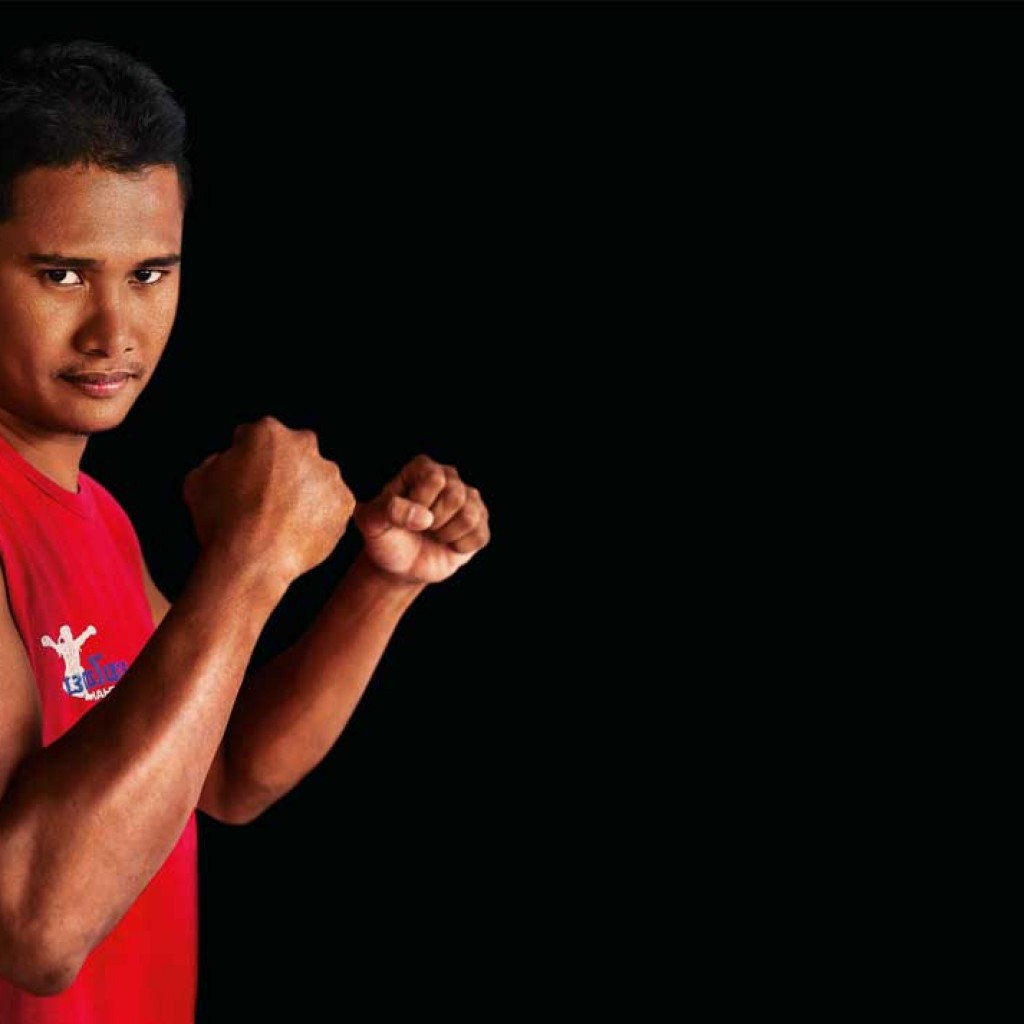 Local Thai boxing legend "Tuk" Chokkeau is one of the nicest guys you are ever likely to come across – just so long as you don't meet him in the ring…
Local Thai boxing hero Pricha '' Tuk"  Chokkuea is the co-owner with his wife Diana of the recently-opened Rawai Muay Thai Khao Lak, a traditional Thai boxing gym and training camp.
Born and brought up in Thap Lamu (southern Khao Lak) before moving to Bangkok at the age of twelve, Tuk's story is truly inspirational.
Born into poverty and one of four brothers, Tuk first began Thai boxing when he was just eight years of age, and never looked back.
After years of training and dedication he rose through the ranks to the very top of the sport and participated in fights that were shown on television nationwide.
During this time Tuk met Diana Campillo, a visiting PhD candidate from Mexico. The couple fell deeply in love and married, after which both their lives took a new turn.
In 2003, the couple opened Rawai Muay Thai, a Thai boxing gym on Phuket to teach Muay Thai to visiting foreign students.
They were one of the first places in Phuket to do so but the risk paid off handsomely – and their shared passion for both Thai culture and Muay Thai saw their business go from strength to strength. Their vision of
linking Thai boxing to the tourism market also paved the way for a new breed of young Thai entrepreneurs to prosper, coinciding as it did with the start of Muay Thai's meteoric rise in popularity globally.
Since those early days they have trained hundreds of foreign (and Thai) apprentices and led their best champions to battle across Asia and beyond – from the famed Lumpini
Stadium in Bangkok to arenas in Malaysia, Singapore, Indonesia, Hong Kong and Australia.
Recently Tuk returned to his roots by moving back to Khao Lak with Diana and their two young children, intent on repeating the success of their Phuket venture. The result is Rawai Muay Thai Khao Lak – where already they have 15 trainers and 10 staff to cope with the booming visitor demand.
This well-equipped traditional Thai boxing gym offers individual and group Muay Thai training to visitors along with comfortable accommodation and related facilities – and can even arrange real bouts for their most promising students at the Khao Lak Boxing Stadium (behind Bang Niang Fresh Market).
Just so long as it's not Tuk waiting for them in the ring, I guess they stand a chance…
To learn more on Rawai Muay Thai Khao Lak visit their website.
DID YOU KNOW?
"Tuk" got his nickname for a very simple reason – he was actually born in a tuk-tuk on the way to the hospital!
Rawai Muay Thai Khao Lak offers free training and sponsorship to local kids – to help keep them out of trouble
40% of Tuk's visiting Thai boxing students are women
 Where is Rawai Muay Thai Khao Lak