Service with a Smile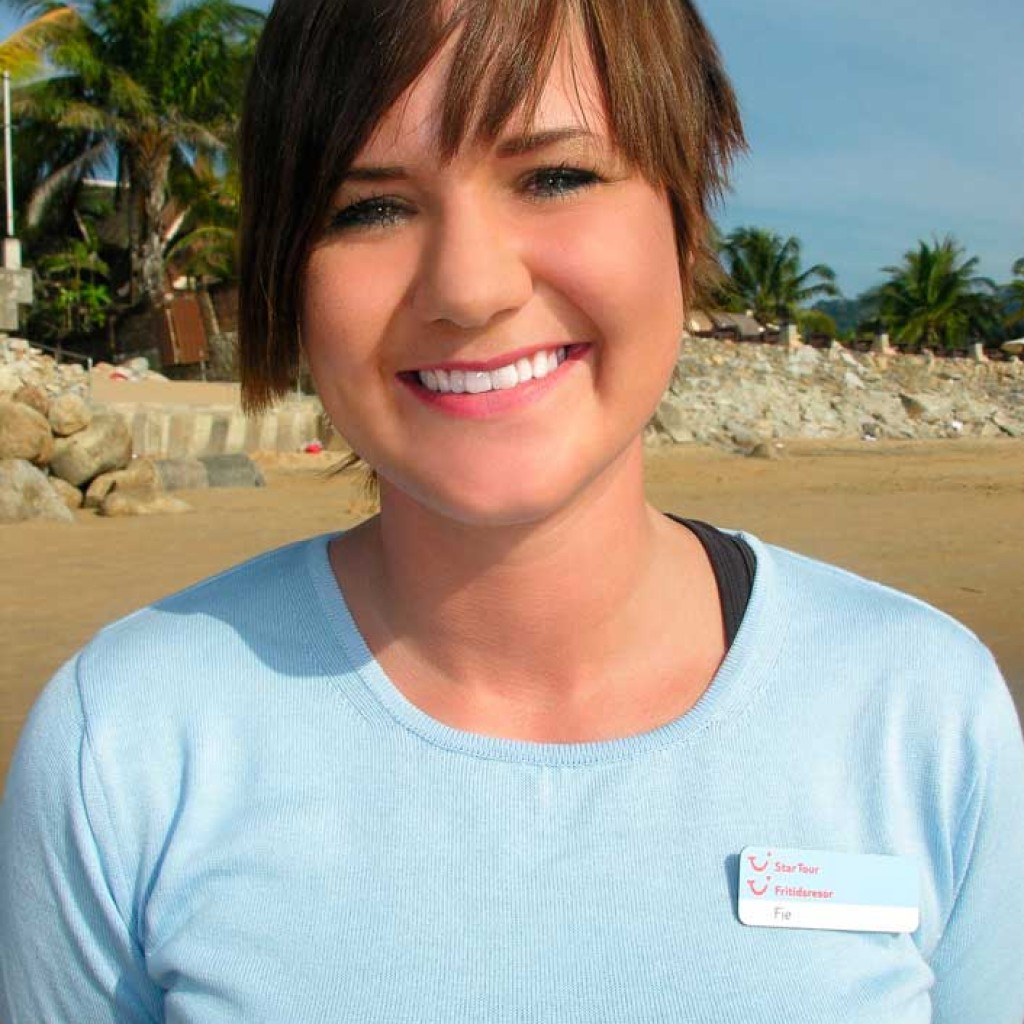 Meet Fie Sillesen
Khao Lak Team Leader for TUI Nordic
Fie ('pronounced 'Fee-yah') Sillesen, 25, is the Khao Lak Team Leader for TUI Nordic, the largest Scandinavian tour operator. She has day-to-day responsibility for a team of 10 Guides caring for TUI guests at 20 resorts across the region.
So Fie tell us a little bit about your background – what should we know about you?
Well, I guess the first thing is that I'm a Danish girl, born and raised in Roskilde, Denmark where my Mum is a Maths teacher and my Dad a computer programmer. I also have a younger sister aged 20.
Did you do much travelling when you were growing up?
Oh yes! My parents were avid travellers so from when I was very young, wherever they went, I went! It was brilliant as we visited a lot of countries – from China to the United States. By the time I was 17, for example, I had already been on safari in Kenya, seen Angkor Wat and toured the Grand Canyon! That's not something that everyone gets to do, especially so early in life, so I feel very lucky and privileged to have had the opportunity.
Had you been to Thailand before your job brought you here?
Sure… in fact Thailand was my first ever long-haul trip! We came on a family holiday to Phuket when I was 10 years old and spent a fantastic 3 weeks at Karon Beach. I remember absolutely loving it, and we even did an excursion to Cheow Lan Lake in Khao Sok, which is now one of the most popular trips that we arrange for TUI guests in Khao Lak! Even at that young age I completely fell in love with Thailand and knew that one day I would come back.
How did you get started in the travel industry?
After high School I wanted to travel in my gap year but it was very difficult to pay all my bills and save enough cash to go anywhere, so I started looking for a job that would allow me to travel. I didn't want to be an au pair and I set my mind on becoming a tour rep for TUI Nordic. It was a very competitive application process, but after several interviews and tests I was accepted and sent to the company's concept hotel on Gran Canaria for training.
Where did you go after that?
By November 2011 I was a qualified TUI guide and was sent to Cancun, Mexico for my first 6-month tour of duty, which was an exciting posting. After that I also had six-month placements in Hurghada (in Egypt, on the Red Sea), Gran Canaria and Cyprus before I applied for promotion. Luckily I was successful and after further training in Stockholm I became a Destination Team Leader, the job I do now.
So how did you end up in Khao Lak, and when did you arrive?
I arrived in October 2013 on a standard 6-month posting. Before we are sent to a new destination we are asked to rank 5 places in order of preference and TUI will always try to send us to our first choice. Khao Lak was top of my list because it looked like such a fabulous place and luckily for me, my wish was granted and here I am!
What's the best thing about Khao Lak in your opinion?
Obviously the natural beauty of the place itself is fabulous, that goes without saying, but beyond that there are two things that stand out for me – the people and the safety. I genuinely love Khao Lak and the people here. It is the friendliest place I have ever visited in terms of the local people and how quickly they invite you into their lives and community. I have found that Thai people will always try their very best to help you whatever you ask them for, and where else in the world can you say that? I also feel that Khao Lak is the safest place I have ever been and I love the fact that I can go anywhere I want by myself, or walk home alone at night, feeling completely safe. I know many of our guests feel the same way too.
So tell us more about your work here. What exactly do you do?
At this time of year TUI Nordic has over 15 direct charter flights a week arriving in Phuket, bringing guests here from Denmark, Finland, Norway and Sweden. Our guests stay in 20 resorts across Khao Lak and my job, along with the 10 guides in my team, is to make sure that every guest is happy, well-cared for and has the best possible time here. That means assisting guests with any problems or special needs they may have, as well as, for example, arranging excursions and activities for them.
So what's an average day?
Every day is different because you never know what issues might pop up next, but generally my day starts about eight in the morning. By 09.00 my guides are meeting guests in their resorts, whilst I deal with emails from the previous day and plan the day ahead. At 11.30am I will have a debriefing with the guides followed by a quick lunch at a local restaurant. In the afternoon I will often meet with a GM of one of the hotels hosting TUI guests to discuss any matters reported to our guides.
That sounds like a lot of work. Do you enjoy it?
It definitely is a challenging job, especially at the height of the season, but that's what I signed up for and I love to help people and see our guests happy, so I actually love it. TUI are also very supportive as a company and I visit our Destination Team Leader in Phuket each week for feedback and planning meetings. I couldn't do the job without a great team around me also, and our guides are all very hard workers and great, energetic people.
So when do you get to relax?
I aim to leave the office every day by 6pm and head straight to my local gym for an hour on the running machine. This is my 'me time'…the only time of day when I can guarantee no interruptions or phone calls, and it's what keeps me sane I think! Apart from that, I will read for an hour or so before I sleep, but even then I often get an urgent work call or two from one of my team! Also, I get a day off each week – so the other day, for example, I took my sister diving at the Similan Islands for the day with Raya Divers which was awesome. She is visiting from Denmark and loves it here too!
So lastly, Fie, how do you think you will feel in March when your Khao Lak posting is over?
Very sad! I really have had the most tremendous time here and I know already I will miss it terribly when it is time to leave. Right now my immediate future is with TUI Nordic but if I was not working for them and was offered the chance to stay and work here during the green season I would grab it with both hands! Whatever happens, whether through work or not, I know this will definitely NOT be my last time in Khao Lak…just like when I was 10 years old and knew that I would be back in Thailand one day!