Khao Lak News and Events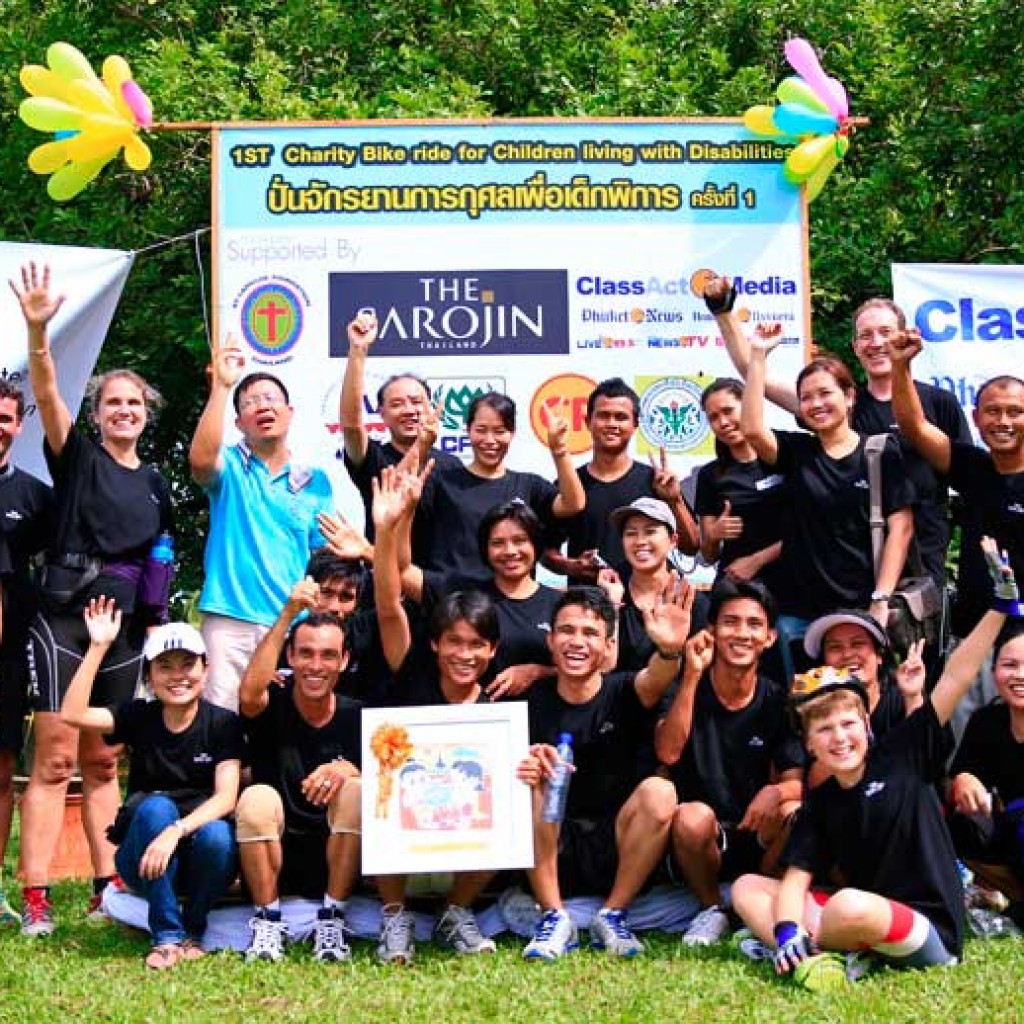 Send your news, photos or event details to us at Visit Khaolak and let everyone know what's been happening…or what's coming soon..in the Khao Lak region.
Charity Bike Ride
Owners, staff and guests of the Sarojin raised over 100,000 baht recently for the Camillian Centre,Takua Pa by taking part in the Centre's first Annual Charity Bike Ride.The Centre provides day-care and support for local children living with disabilities.The Sarojin co-owner, Kate Kemp and her family also showed an impressive display of pedal power as they joined the sponsored ride. To make a donation to the Centre, or if you wish to volunteer or find out more about their work, contact manager Khun Somchai on 086-276-5353
Donation to Khao Lak Rescue
As pledged in our December 2013 launch issue, Nutchanat 'Joy' Arunprasert presents a donation of 10,000 Baht to volunteer Stephan Dietrich of the Khao Lak Rescue Volunteers Organization to buy much-needed equipment and supplies.To donate to this worthwhile cause, or for more information, contact Stephan on 083-176-5873
Appointment of Mr. Connolly as hon.Thai Consul
Mrs. Raweewan Thongphet Smullen from Khukkak presents h.E.. Mr. Pasan Teparak, Royal Thai Ambassador to the UK. and Ireland, with the first-ever issue of the Khaolak Magazine, watched by Mrs. Paradee Teparak, Mr. Barry Connolly hon.Thai Consul to Ireland and his wife Mrs. Grace Ann Connolly, on the occasion of the appointment of Mr. Connolly as hon.Thai Consul at a reception in Dublin, Ireland. December 15, 2013.
New Restaurant Opened
The new Thai Corner restaurant opened recently, just a stone's throw from their sister restaurant Pinocchio. Find them just off the crossroads on Food St (Bang Niang Beach Rd) opposite LanLa cocktail bar on the way to the Ramada and La Flora resorts.
Children's Day
The Ramada Resort Khao Lak recently celebrated Children's Day.
The Ramada assisted the Khukkak municipality and other business and local community supporters to treat the youngsters at Watkommaneeyakhet and Suthinanusorn Schools to those global kids' favourites – chicken nuggets, ice cream and balloons!
Surf Contest
Late April will see Memories Bar and Pakarang Surf Shop host Khao Lak's first surfing competition. Contact Memories Bar owner Khun Ching on 089-729-2251 for more information.
Khao Lak Horse Club
Saddle up, cowboys and cowgirls – Khaolak horse Club is open for business! Located a few km out of town on the way to Chong Fah Waterfall, the KLHC offers 3hr rides through lush local scenery from their stables to the beach and back for just 1,000 Baht. Riding lessons are also available. Call 093-727-1552 for details.