Driving the Coral Cape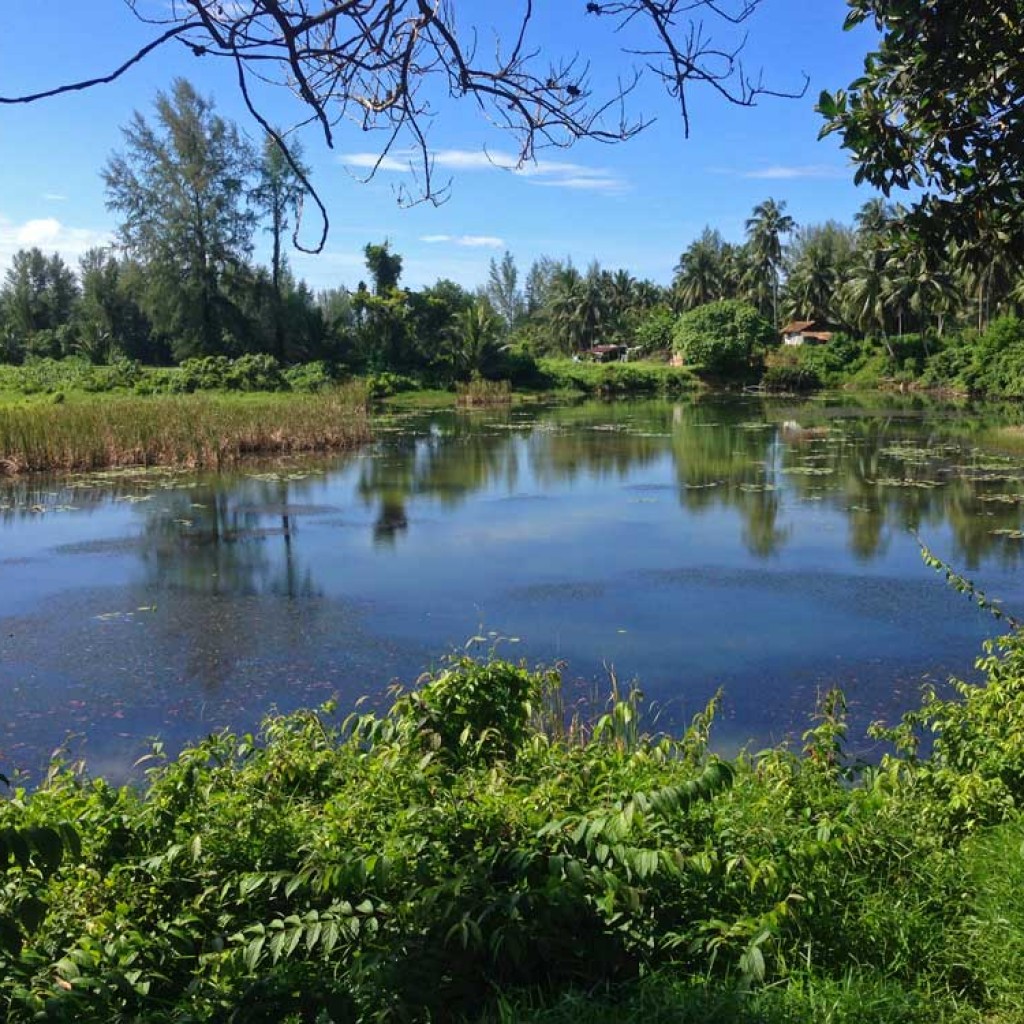 By bicycle, motorbike or car, a ride or drive to Laem Pakarang (Coral Cape) is a great way to begin exploring the Khao Lak region.
F
or a nice short trip to familiarise yourself with one of Khao Lak's most scenic areas, drive north from Central Khaolak along Highway 4 in the direction of Takua Pa until at the top of a rise in the road you see a left turn signposted to the Apsara, White Sand Beach etc. and a  '7-11' store on the corner.
Turn left here and continue down this road passing the turn off to your right for the Sarojin etc. until you pass the Palm Galleria Best Western on the left and come to the T-junction at the end.
A left turn at this junction will take you to the Apsara Beach Resort. Park here and go onto the beach where you will find Memories, a local beach club with a restaurant and bars. Surf boards can be hired here too. Turn right at the junction and it will take you along Cape Pakarang itself. Park when you reach the end where you will find the small Sutlam Pakarang restaurant/bar, open 10.00-20.00hrs in season only.
If the tide is out you can walk a good distance along this beach of crushed coral, bleached white by the heat of the sun, admiring the panorama along the cape. At sunset this is an especially spectacular sight. Return in the reverse direction, turning left at the T-junction and then left again at the junction signed The Sarojin etc.
After 400m or so take the next left turn, going straight on past the Kantary resort on your right and onto the sandy track (E) which leads you to Coconut Beach. Park at the end of the track next to the Boatyard Restaurant and arguably the best part of the best beach in Khao Lak – Pak Weeb Beach (F). To your left as you face the sea you will see the sweeping crescent of Laem Pakarang that you have just visited (above, right).
Return back, but this time take the first left after the Kantary and drive past The Sarojin resort on your left. Immediately after this take a left turn down the entranceway to the famous and popular White Sand Beach (below) and Ao Thong Beach. Park under the trees then sit at one of the salas and have a drink and/or meal.
Take the opportunity to stroll this beautiful beach which stretches several kilometres into the distance in both directions (L & N). When you're done, turn left out of the resort and follow the small winding lane northwards back to Highway 4. When you reach the highway, take a right and continue all the way back to Central Khao Lak.