On Your Bike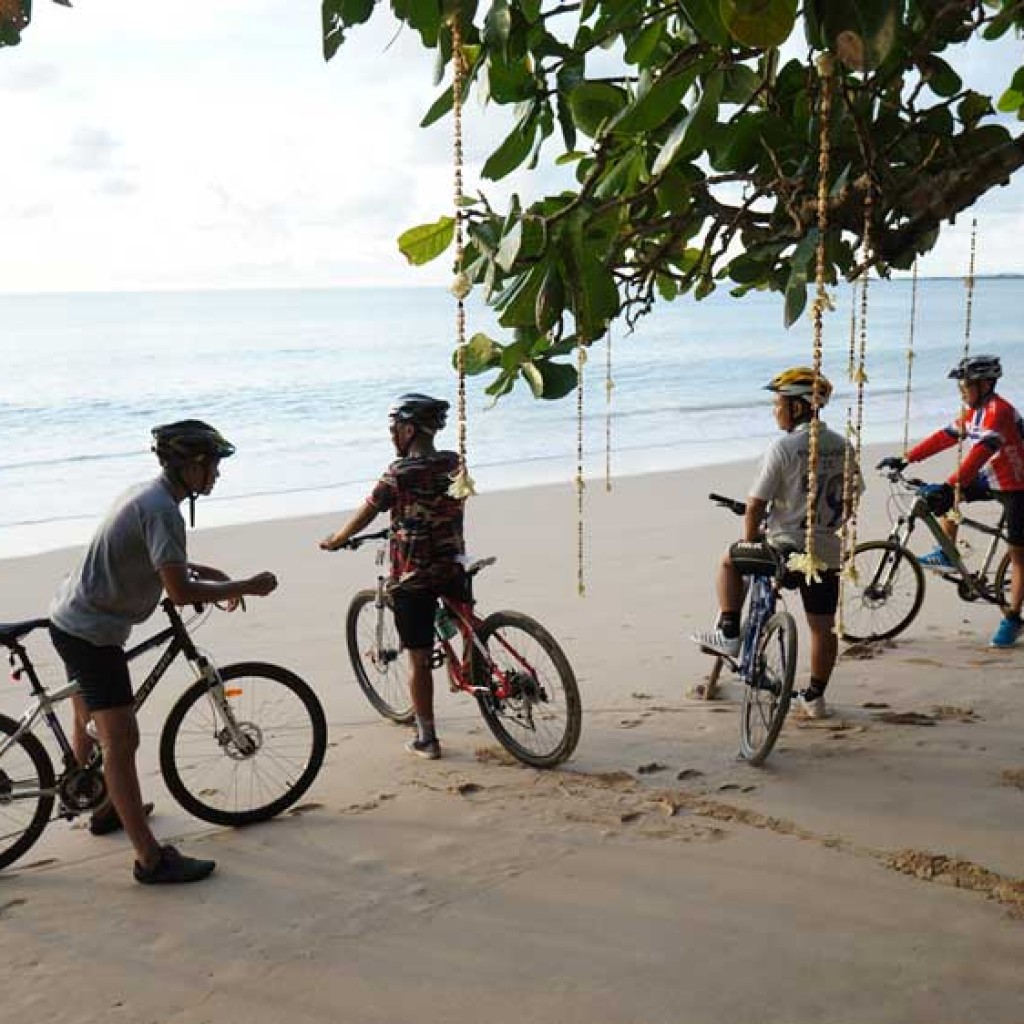 Cycling around a new destination is an inexpensive, healthy way to get intimate with the local surroundings, and for those wishing to explore Khao Lak at a leisurely pace, cycling can be the ideal way to get around.
You don't need to be super fit to hop on a bike and enjoy quiet, shaded beach lanes or visit beautiful local landmarks.
Assuming you didn't bring your own bicycle with you ('I knew there was something we forgot to pack, darling!') you have two choices – either hire a bike and go it alone (see below), or join an itinerary that suits you from a specialist bike tour company (such as Khaolak Vista, also featured below).
1. GO IT ALONE
There are several places in Khao Lak to rent decent quality bicycles, including at most major resorts.
Pedal power allows you to visit the market, access nearby beaches or National Parks, or go wherever else you feel like exploring.
Alternatively, if physical exertion is your thing, you can always take on the hills and mountains surrounding Khao Lak which will challenge even the keenest of cyclists.
Either way, it's reassuring to know that you won't have to pedal too far in Khao Lak before coming by shade and refreshments, with roads often lined with occasional fruit stalls and simple, rustic restaurants.
2. JOIN A GUIDED CYCLE TOUR
To get the most out of your time on a bike, you may prefer to join one of the pre-planned itineraries from a local cycling tour specialist.
Khaolak Vista, for example, offer guided cycling tours around Khao Lak for small groups of riders, with experienced guides showing you the best sights as well as a few local secrets.
• Take a plunge in refreshing waterfall pools to cool down after your time on the saddle. Sai Rung Waterfall is just one of many beautiful waterfalls well worth a visit.
• Enjoy country lanes and stunning tropical scenery on the roads less travelled around Khao Lak. Discover these local secrets with experienced cycle guides.
• Cycling tours suitable for all the family.There's even some play time at one of Khao Lak's quiet beaches.
• Enjoy cooling waterfalls, cultural temples and uncrowded beaches at most times, away from main roads.
To find out more, or to book a guided tour with Khaolak Vista, call 081 077 0559 or email khaolakvista@gmail.com
Koh Kho Khao Cycling Day Trip
Considered by some cyclists to be one of the best bicycling destinations in the Khao Lak area, the beautiful island of Koh Kho Khao makes for a perfect cycling day trip – with kilometres of sleepy, traffic-free roads and lanes.
The island has endless uncrowded beaches and flat grassy plains on the western coast.The hilly north-eastern zone has more challenging terrain, including
some forest reserves, with dirt roads perfect for mountain bikers to explore.Take water, snacks and a map (or smartphone!) and you're away.
Getting there: Cycle or take a Songthaew (local taxi) 20km north of Bang La On to Ban Nam Khem and find the ferry pier. Take the cheap 10 minute ferry ride across the channel to Koh Kho Khao Island, and begin exploring. Read more about Koh Kho Khao.