Khao Lak's Biggest Locals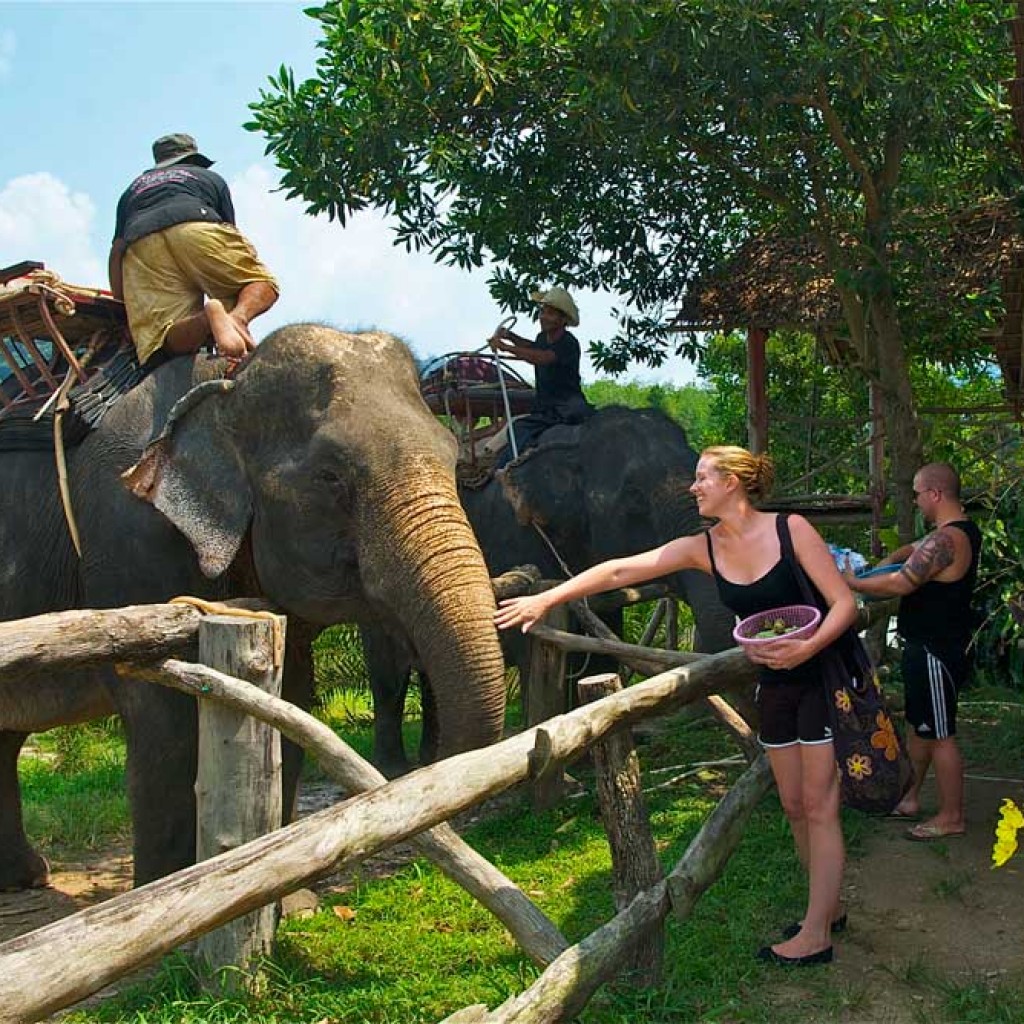 Meet, feed and trek with Khao Lak's biggest locals…
then have a bath together!
Join us for the ride as we go elephant trekking and bathing with local eco-tour specialist Eco Khaolak Adventures!
One of the most popular land-based activities for Khao Lak visitors is a jungle elephant trek.
This is because firstly, elephants are essentially friendly giants and everyone loves them, especially the kids. Secondly, the tours involving elephant trekking last only a few hours so they can be done after lunch (after a morning on the beach, of course), with participants comfortably back in their hotel rooms well before it's time for dinner.
Add to this the fantastic fun and photo opportunities that every trek inevitably provides (when did you last take a 'selfie' that included a live elephant?) and it's not hard to see why the tours are so popular.
We decided to go one better, though. Rather than just sign up for a regular trek we joined the popular afternoon elephant tour package from local tour specialist Eco Khaolak Adventures – where not only do you get to feed and ride these magnificent animals, but you also get play in the bath with them afterwards! (well, OK, not quite the bath, but you get the idea).
While you enjoy the photographs of the biggest friends you or I will ever have on dry land – however many burgers we eat – we've also put together a few fascinating elephant facts for you to wow your friends and loved ones with at dinner tonight… just like every fearless, elephant-riding jungle explorer should.
6 THINGS YOU NEVER KNEW ABOUT ELEPHANTS
FACT #1
JUMBOS ARE NO DUMBOS!
Elephants are some of the most intelligent animals on Earth.Their brains weigh 5kg, much more than the brain of any other land animal.
The complex structure includes a cortex that has just as many neurons as a human brain, accounting for their incredible problem-solving capabilities, as well as areas that allow for advanced emotions and memory.
FACT #2
ELEPHANT TRUNKS ARE THE ULTIMATE POWER TOOL
The elephant trunk, a specialized nose, is used for smelling, breathing, trumpeting, drinking, caressing, carrying and grabbing objects.
With more than 100,000 muscles in it (we have less than 800 in our entire body) it is similar to an octopus tentacle in terms of dexterity.This enables elephants to be adept tool-users – some have even been taught to paint with their trunks and produce some fascinating artwork.
They also use their trunks as snorkels when they wade in deep water, and when an elephant drinks – or squirts you! – it sucks as much as 2 gallons of water into its trunk at a time.
FACT #3
LABOUR INTENSIVE
Elephant pregnancies are longer than any other mammal – nearly 22 months. A newborn elephant weighs about 90 kilograms and stands about 1 meter tall.
FACT #4
ELEPHANTS HIRE BABYSITTERS!
Infant elephants have few natural survival instincts and are instead taught by their mothers and the more experienced members of their herds.
The mother will selectively appoint several babysitters to care for the baby so that she has time to eat enough to produce sufficient milk for it.
FACT #5
ELEPHANTS USE & MAKE TOOLS
Elephants use and make simple tools. They use logs to neutralize electric fences, and they pick up objects such as logs and rocks to throw at opponents.They will use sturdy branches to remove ticks from themselves and leafy ones as 'fly swishes' even modifying the branches to create the ideal 'swisher' length!
FACT #6
ELEPHANTS ONLY HAVE 4 TEETH, BUT THEY'RE REPLACEABLE!
Even though their diet consists entirely of plants, even gnawing on bark and leaves can wear teeth down so elephants normally have between six or seven sets of teeth in their lifetime.The new teeth grow in behind the old ones and slowly push them out the front in pieces.
Elephant tusks are ivory teeth that grow throughout the animals' lives.
About this Tour
The 'Elephant Trekking & Bathing' tour can be booked through local tour specialist Eco Khao Lak Adventures and includes:
Elephant riding through a local National Park rainforest
Refreshments and photos back at the Elephant Camp
Elephant bathing at a local river
The tour starts at 14.00hrs and returns guests to their hotels by about 17.00hrs
Check out the company's website for more information or call 081 895 0432