Learn to Dive at the Similans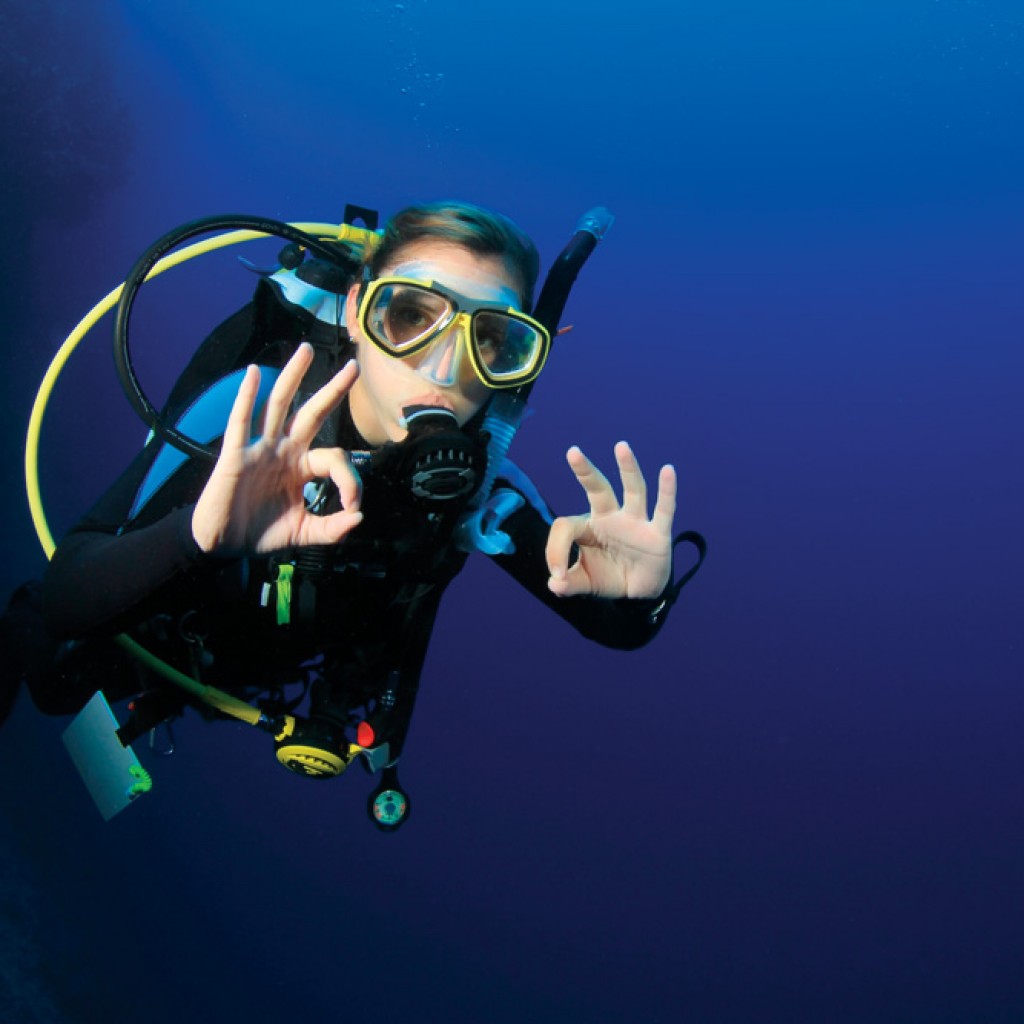 Even a complete novice can learn to dive at the world-famous Similan Islands – in just 4 days!
The Similan Islands is world-famous for providing some of the best scuba diving in South East Asia – and every year more and more scuba divers from all over the globe converge on Khao Lak, the gateway to the Similans, to dive Thailand's premier marine national park.
As Khao Lak's diving reputation grows so too does the number of people who choose Khao Lak and the Similan Islands as the ideal place to learn to dive.
One of great things about the Similan Islands is there are dive sites for all levels of divers, even numerous spots ideal for snorkelling. There are many shallow dive sites with sandy areas ideal for practising skills. Clear warm water and protected bays with no ocean currents offer the perfect environment for first time and beginner divers.
What's more, these protected islands offer a huge wealth of underwater wildlife. Colourful corals and huge sea fans provide the backdrop to a wide variety of fish life that will dazzle your senses. Not only will you learn to dive you'll get the chance to swim with turtles and possibly even giant manta rays.
Here's our step-by-step beginner's guide to taking the plunge into diving from Khao Lak.
Some people can't wait to try scuba diving, others maybe a little nervous or apprehensive.After all we're all different and have our own individual limits when it comes to water-based activities. Whatever your feelings are about learning to dive you are definitely in the right place. Khao Lak has an excellent reputation for training and certifying divers, with both SSI and PADI courses offered at a multitude of dive centres around the town.
Four days is the ideal amount of time to set aside to complete your basic open water certification, though with some study in advance it could be possible to do in three days if you're a little pushed for time. SSI and PADI offer online learning so you can complete your dive theory at home to save on valuable holiday time.
Getting To It
First off you will meet your diving instructor who will go over the full details of the course and the plan for the next few days.This is the ideal opportunity to get to know your instructor and ask any questions you may have.There will also be some paperwork to fill in and equipment to try on before you get started on the course.
The course begins with some study sessions or recapping what you have learnt if you have opted for online learning.The study sessions are usually flexible to fit in with your holiday plans.You can study from a diving manual poolside at your resort or watch the dive theory on video at the dive centre. Many people choose a combination of both ways to study. Each section of study is followed by some simple reviews. This is a means for your instructor to keep check with your progress and explain anything that isn't clear.These reviews also are a great revision guide as there will be an exam at the end of the course.
Pool Sessions
Once the study is completed it's time to get wet. Don't worry you won't be jumping into the ocean before you are fully prepared. There are some practise sessions in the swimming pool first.
In the pool you will learn skills to cover situations you may encounter when diving, like how to clear water from your mask should it leak a little. The pool sessions also help familiarise yourself with the scuba equipment.
The skills are conducted at your pace, with the instructor constantly by your side to help you master everything you need to know. The pool practise serves to help build confidence if you are nervous before heading out to the Similan Islands.
It's Time. Your First Dive!
When you and your instructor are happy that all skills are mastered, it is time for the real fun to begin.Your first open water dives in the Andaman Sea at the Similan Islands.The following day will be an early start so it's advisable to get a good night's rest and avoid drinking a lot of alcohol. During the ride out to the Similans, your instructor will recap the important points you've learnt so far. There will also be a thorough dive briefing, a summary of skills to cover and pre-dive buddy checks prior to getting into the water.
Don't worry if you're feeling apprehensive at this stage, amazing things are about to happen as you take your first plunge into a new world. Pre-dive nerves aren't such a bad thing, as a result your pre-dive checks will be more thorough and you'll make sure you are fully prepared before you jump.
Once in the water your instructor may give you a few more words of encouragement and practise a couple of skills, but really its time to get down, literally, to the task at hand.
On the first dive there isn't much to practise skill wise, it's just really about getting used to being underwater and enjoying the experience. Don't worry if the mask leaks a little, you'll already be well practised at overcoming these minor problems.
The dive will be approximately 45 minutes, though usually you're having so much fun you won't notice. Many first timers are really surprised to learn how much time has passed, such is the mesmerising effect of being underwater.
Once you feel comfortable underwater you'll be amazed at the colours and diverse life of the underwater realm. Reef fish of dazzling colours swimming past intricate hard corals and soft corals of reds, violets and purple. Schooling neon fish in deeper waters and everywhere you look something new and interesting happening.
Your instructor will be with you every kick of the way. Always making sure you are safe and in control, checking air consumption and depth – and on the lookout for interesting things to show you as you explore the dive sites. As you reach your maximum dive time, or when you reach a certain quantity of air left in your scuba tank it will be time to head shallower for a safety stop before surfacing and getting back onto the boat.
One of the great things about learning to dive in Thailand is there's sure to be delicious Thai food awaiting you on the boat. Lunch is a chance to share your experiences with your instructor and recap how things went as well as planning for the next dive. Of course there's also time to relax and enjoy the splendour of the Similan Islands.
Dive 2. Now You're a Veteran!
On the second dive there are usually a few skills to practise, the same as you'll have done in the pool.They usually don't take up much of the dive time and most of the dive is spent gaining more confidence underwater and simply enjoying the show.
By the time you've finished your second dive you are well over half way to completing the course and you'll already be talking and feeling like a diver.The journey back to land is a pleasant one, thinking about all the new experiences, enjoying the cool sea breeze and the anticipation of more of the same the following day.
"many first timers experience something new even after the day's activities have ended…that night you could well have your first underwater dreams"
The second day follows the same itinerary as the first one. Two training dives that include some underwater skills and some skills to be performed on the surface.There's also a couple of swimming tests to complete. Nothing too difficult, just an easy 200m swim and 10 minutes floating in the crystal clear waters of the Similan Islands.
"I've salt in my hair but i don't care :)"
You can opt to complete the final exam whilst out on the boat, though many prefer to soak up as much of the islands as possible and complete the exam once back on land. Either way it should be a breeze after the time you've spent with your instructor and the experience you've gained after your dives.
On completing the open water course you are now certified to dive in tropical waters around the world. Your holidays will never be the same again, you'll have a new hobby that opens up a whole new world of exploration.
Another Option…
Discover Scuba Diving
If you're in Khao Lak but short on time, or simply want to try diving before committing to the full open water course, there is also the opportunity to try diving at the Similan Islands.This is commonly referred to as Discover Scuba Diving. It is basically the chance to dive to a shallow depth under the constant supervision of a professional instructor.
You will get a thorough briefing of the basic do's and don'ts involved with scuba diving as well as practise time with the equipment you'll be using during the dive. Like the open water course the instructor will be with you the entire time making sure everything is safe and under control. Most Khao Lak dive centres offer two Discover Scuba Dives on a one day trip to the Similan Islands.
Medical Matters
Before starting either a Discover Scuba Dive or the Open Water Course you will have to complete a medical questionnaire. Some medical conditions can prevent you from diving, such as diabetes or asthma though many people can still dive regardless of this if they have been given the all clear by a certified diving doctor. If you have any doubts about your health, check with your doctor before heading out to Thailand.
You will be required to swim 200 metres and tread water or float for 10 minutes to complete the course. It is not advisable to dive if you are suffering from any illness, even a common cold so be sure you're feeling fit before starting the course.
Things To Remember
It's easy to get dehydrated in the tropical heat of Khao Lak so always drink lots of water and avoid alcohol and caffeinated drinks for the duration of your course. It's also easy to forget but you will spend a lot of time exposed to the sun whilst you're not underwater so be sure to use plenty of sunscreen.
Have tonnes of fun and remember – never hold your breath
Where are the Similan Islands