The Magic of Loy Krathong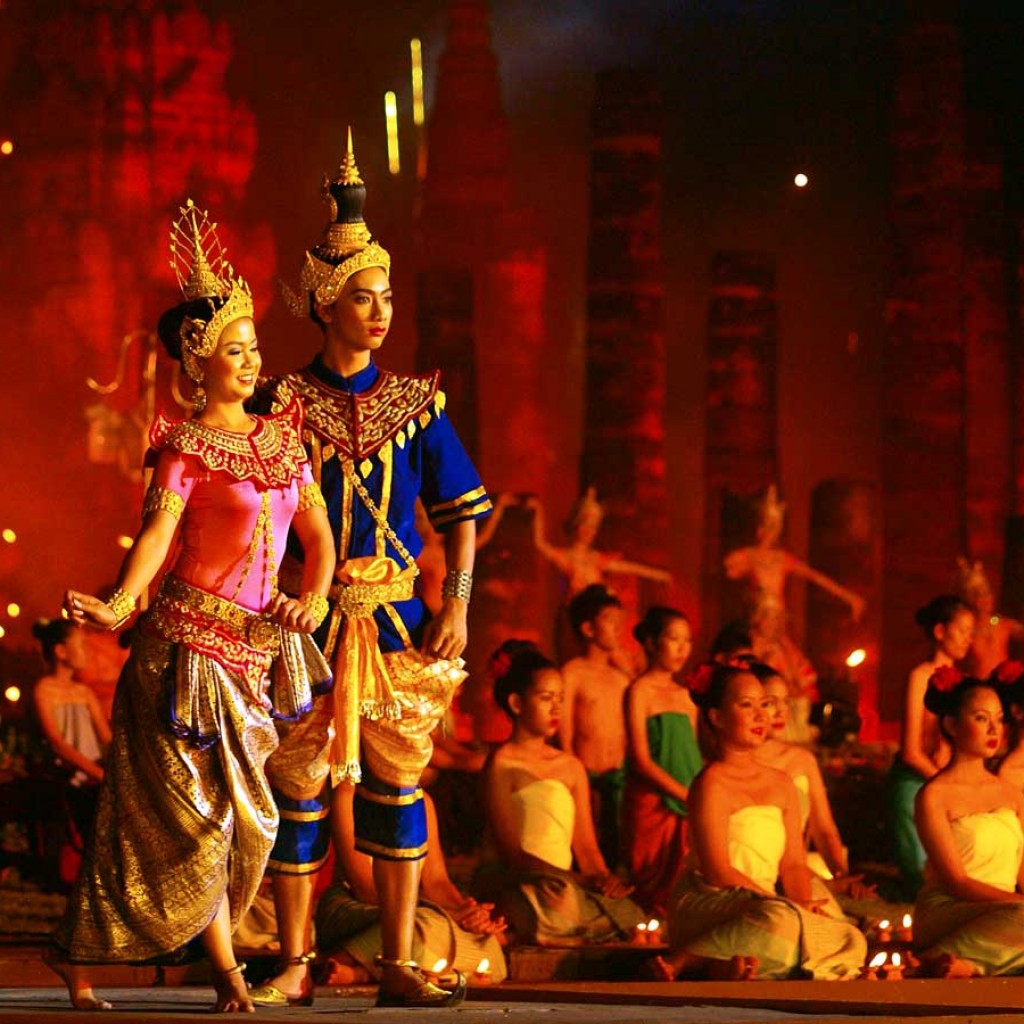 The Loy Krathong festival will be celebrated in Khao Lak and across Thailand on the full-moon night of 17th November.
Here's a beginner's guide to this most charming of Thai festivals and what it's all about.

T
hais love festivals and community get-togethers and the annual Loy Krathong festival is a centuries-old tradition that is probably the most charming Thai celebration of them all.
Under a full moon and a starlit sky, the sight of thousands of colourful, candlelit krathongs floating across the waters of lakes, creeks and rivers across the Kingdom makes for a moving and magical spectacle.
History & Tradition
The exact origins of Loy Krathong are unclear. Some say the modern day festival traces its roots back to the Chong Pa Rieng – an ancient royal ceremony which involved floating lanterns to worship the gods Siva, Vishnu, and Brahma. Others believe it evolved from the earlier festival of Loy Khom (floating lantern).
Officially, the seeds of the modern day festival were sown in Sukhothai still period by Nang Noppamas, a 14th century concubine who is said to have made lotus-shaped receptacles ('krathong') and floated them on the river.
Whether this is correct or not, today Sukhothai lies at the heart of Loy Krathong festivities nationwide and the events held in Sukhothai Historical Park are legendary for their grandeur and beauty.
Loy Krathong Today
Nowadays, the Loy Krathong festival ('loy' means 'float' in Thai) is celebrated nationwide each year on the full moon of the twelfth lunar month (which this year is the evening of Nov. 6th).
People prepare beautiful, candlelit floating krathongs as offerings to the water goddess Pra Mae Khong Kha and release them onto lakes, rivers and even beaches around the Kingdom – an act aimed at bringing good luck in the future.
Krathongs are skilfully constructed. using materials such as banana leaves, bread or coconut shells as a base and decorated with a candle, joss stick and flowers.
Into each is then added a small amount of money and maybe a few strands of hair or some betel nuts or nail clippings – to help trap any bad luck and send it on its way across the water.
Before the offering floats away the owner will ask forgiveness of Pra Mae Khong Kha for the water they have wasted or polluted during the year and will make a wish for his or her future.

NEVER use or buy a foam krathong.
These harm the environment as they are not bio-degradable and pollute Thailand's waterways and seas.
Thais do not, of course, need asking twice for an excuse to have fun so over the years a slew of regional add- on celebrations have grown up around the Loy Krathong tradition – from local krathong-making competitions and parades (with motorised krathongs the size of a small house!) to firework spectaculars and child beauty pageants.
In the northern city of Chiang Mai there is a double celebration as Loy Krathong coincides with the enchanting Yi-Peng lantern festival when thousands of flame-lit lanterns are released into the night sky above huge crowds of locals and international visitors.
How to join in Loy Krathong
Thais are a friendly and inclusive people by nature, so you shouldn't feel shy about joining in with the locals to celebrate Loy Krathong. It's a great way to experience Thai culture first-hand and maybe even make some new friends. Here's how to do it…
The lake in Bang Niang next to Highway 4 is a popular Loy Krathong spot. Head north past Bang Niang Market and 7-11, and you will see it on your right a few hundred metres further on.
Be a part of Loy Krathong in 3 easy steps:

Ask at your hotel for specific events they have planned. Many hotels lay on special Loy Krathong events for guests, often with food and other entertainment provided.
If not, ask the hotel staff where they recommend you should go – they may even invite you to join them at their favourite locations!
Beaches have also become a focal area for Loy Krathong celebrations across Thailand, so if your hotel or guesthouse has no specific events planned just head for the nearest beach and see what's happening.
Wherever you choose remember that you are likely to be outdoors for an hour or more – so keep a close eye on the weather which can still change quickly at this time of year.

Here you have 2 choices – make it or buy it. If you are attending a hotel Loy Krathong event there may be the opportunity to make your own float under the guidance of hotel staff. If you have the chance to do this then take it – it's usually quite a giggle.
If you are not at a hotel event you can simply buy a krathong – from a basic floater to more ornate and expensive creations – from one of the numerous vendors at every local gathering.
Remember also before releasing your krathong to place a few baht coins inside as this will bring you good luck, and feel free to throw in a strand of hair or two or some fingernail clippings if the moment really moves you! (as is the custom).

Take a silent moment to apologise to water goddess Pra Mae Khong Kha for your profligate use of H2O during the year, then light the candle on your krathong and make a wish. Now carefully place the krathong in your chosen river/lake/swimming pool, and give it a gentle push away.
For believers, any bad luck will now disappear on the current along with your krathong, so be sure it doesn't return to you (splash it gently on its way if needed!).Take some photos and enjoy the moment – unless you are a couple, in which case you must watch anxiously to see if your krathongs snuggle together on the water or drift apart – as superstition dictates that this may mirror future events in your real-life relationship.
Good luck and enjoy Loy Krathong!

Where to Krathong