Float your cares away on Cheow Lan Lake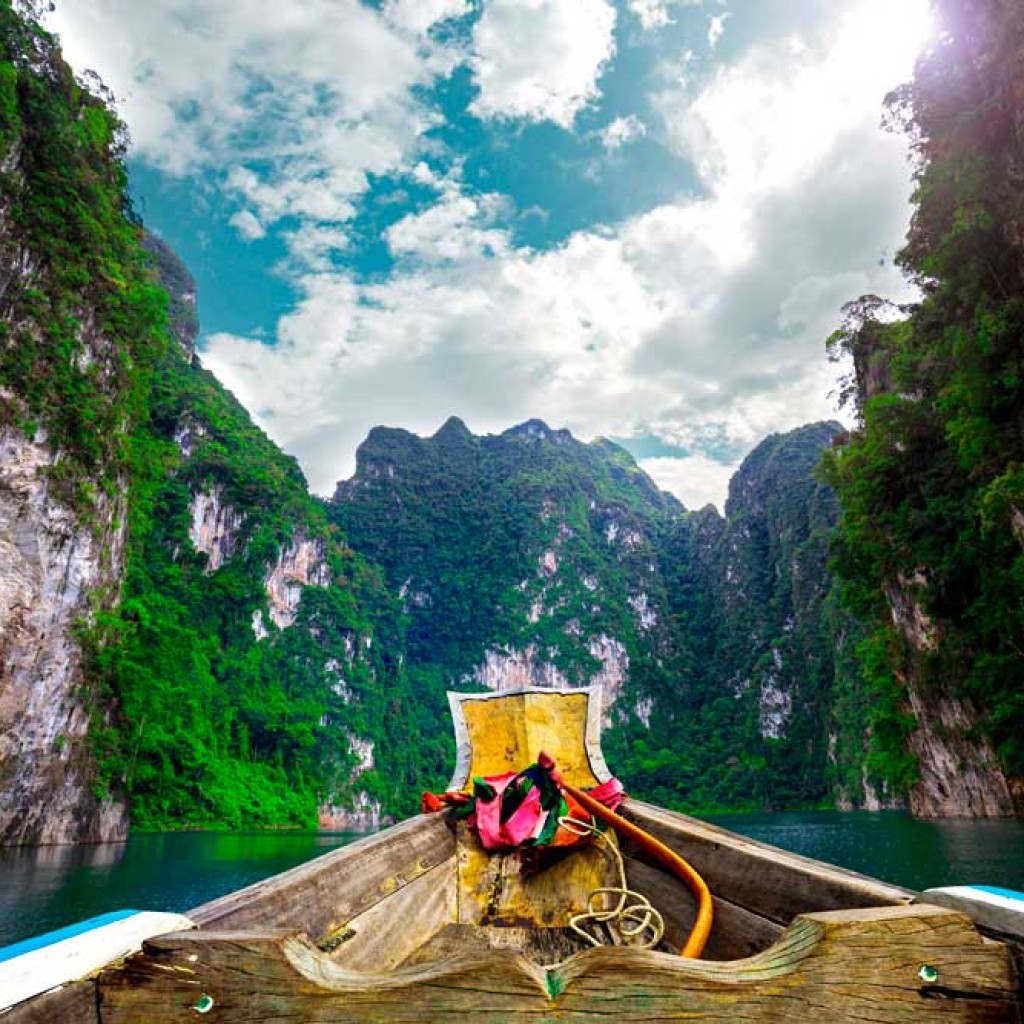 If you are looking for a fantastic overnight (or longer) getaway, look no further – Khao Sok National Park has it all.
Located about a 75-minute drive North-east of Khao Lak, this 740 square kilometre expanse of virgin rainforest is teeming with wildlife, pristine waterfalls and jungle streams – all framed by the spectacular and iconic limestone karsts that dominate the region.
The sparkling jewel in the crown of Khao Sok National Park is the majestic Cheow Lan Lake.
Cheow Lan Lake was formed by the construction of the Rachaprabha Dam in 1982, closing off the Pasaeng river and creating a 165sq. kilometre lake to guarantee a supply of electricity to southern Thailand, which by then was becoming a major tourist destination. At the time it was Thailand's biggest-ever civil engineering eco-project.
Despite the government's best efforts the creation of the dam was by all accounts a difficult time for animals in the area, but over the years the wildlife has once again flourished and now the lake and surrounding jungle is a haven for wild elephants, the rare Asian Ox, gibbons, langures, macaques, pangolins, osprey, eagles, hornbills and more.
I remember when I first heard about Khao Sok National Park and the 'floating hotels' on Cheow Lan Lake it was like that moment in 'The Beach' movie where Leonardo di Caprio's character learns of the secret backpacker's paradise island, far removed from the rest of civilization.
It was only a few days later, with my imagination still racing and some good friends accompanying me, that I was ready to strike out from Khao Lak on a mission to locate these remote and rustic lodgings and spend a night in this idyllic setting….
A
fter a delicious Khao Lak which led us all the way to the park's road on either side became larger lunch on Pak Weeb beach of tropical fruit and skewers of barbecued meat that we bought earlier, we loaded up the car, checked our bearings on my phone's GPS map and hit the road North on highway 4. Once through Takua Pa the main road forks (with the left fork taking you to Ranong and eventually Bangkok) so we took the right-hand fork onto highway 401 which led us all the way to the park's entrance at the KM109 marker.
There are only two access points to Khao Sok; the main park entrance, where the Visitor Centre is located; then another hour or so along route 401 is the access point for Cheow Lan Lake. As we drove along the road towards the main entrance, the landscape began to change and the limestone mountains surrounding the and larger as we pushed on.This stretch of road is simply breathtaking, with white cliffs looming over the road alternating with dark tunnels almost enclosed in the jungle canopy. Fresh fruit stalls are dotted along the roadside selling watermelons, mangosteens, durian and jackfruit – you should definitely grab some fruit, as once you get out on the lake there are no shops to buy snacks.
We arrived at the main entrance to have a look around and confirm with the rangers at the Visitor Centre that we were on the right track to Cheow Lan Lake.TheVisitor Centre area is where you can start along many different jungle and waterfall treks, all clearly marked and suitable for all fitness levels.The helpful English speaking staff can give advice on which trails to take and what else there is to do in the park, so don't be afraid to ask. We stopped for a snack and a swim in the refreshing stream that runs past the Visitor Centre, but then it was time to keep going to make sure we got to Cheow Lan Lake before dark. Arriving at the lake's edge, we parked and locked the car, and took our bags over to the Booking Centre for the 'hotels' we had come here to find!There are plenty of choices, with rooms costing between 600 to several thousand baht a night. We settled on one that was 1,000 baht per night, organizing for a long-tail boat to take us there and back. Be careful when negotiating here and make sure you are clear on what the price includes.We assumed the 1,000 baht price was per room – not, as we later found out, per person! Still, all meals are included and even at that price it's worth the money – although a shrewd negotiator could have no doubt got it for less.The price for the boat was 2,500 baht to take us out there, stay overnight and do some sightseeing on the way back.
OUT ON THE LAKE
So finally we were here!
We set out on the lake towards the setting sun, the pristine emerald waters were stunningly beautiful in the golden light. Verdant jungle covered the dozens of limestone karsts jutting sharply out of the water, and where they were too sheer for vegetation to cling to, the bonewhite rock reflected the warm orange rays of the rapidly-setting sun.
After about an hour of negotiating the various arms of the lake, we arrived at our quaint little "hotel" just as the sun set behind the cliffs…
LULLABY BABY…
After tying up at the dock we were shown our rooms, or shacks as it were; small, simple bamboo huts with nothing but a double mattress, mosquito net, a single light bulb and a little veranda out the front overlooking the lake. It was perfect – just the kind of rustic little structures we had imagined.
After dumping our bags we went to the restaurant for a delicious dinner of whole deepfried fish, various Thai-style curries, noodle and rice dishes all topped off by a dessert of
fresh tropical fruit.
We went to bed early with our stomachs full and were quickly nursed to sleep by the almost imperceptible rocking of our humble floating abodes….
A DAY TO REMEMBER
We were up at first light the next day, and stepping out of our huts were greeted with the mesmerizing sight of mist rising from the incredible limestone karst towering over our little group of floating rooms.
After breakfast, we decided to cool off with a swim in the inviting waters of the lake and also went exploring with some of the kayaks, which were available for free at the hotel.
We glided silently across the lake as dozens of huge fish fed in the shallows, occasionally leaping clear of the water. Afterwards, I settled down to read a book on the veranda of my hut, but soon drifted off to the sound of water gently lapping at the boardwalk…
HOMEWARD BOUND
All too soon, it was time to head back, and to say that we were disappointed that we couldn't stay longer is a massive understatement.
As we cruised back towards the jetty our boat driver took us to some of the little hidden inlets and coves that abound throughout the lake. With perfectly clear skies and the bright sun highlighting the emerald green jungle and pale white cliff faces, the natural beauty of the lake and National Park was indescribable.
All too soon we found ourselves back at the jetty and in the car again driving towards Khao Lak, each of us vowing that we would definitely return – and definitely stay for longer next time!
A Mini Guide to Khao Sok
If you would like to visit Khao Sok and/or Cheow Lan Lake you have several choices.
There are day tours and longer-stay tours of just about every kind available, and letting a tour company organise your trip may cost a little more than arranging everything yourself but for most travellers this is the preferred option as you have the reassurance of local knowledge and do not have to worry about the logistics of the trip.
You can stay one or more nights in varying levels of accommodation (the majority of which is near to, but outside the National Park itself) and once there you can do everything from general sightseeing to birdwatching, kayaking, jungle trekking and more. A little research on the Internet is called for here.
When you know what you want to do there and when you want to go, numbers for some of Khao Lak's main tour operators are in our Visitor Guide, or of course you can call any of our advertisers who catch your eye.
You may decide like our feature writer this issue to drive yourself there and book your own accommodation.This can usually be done via phone and email, although bookings may not be as instantly confirmed as in busier tourist areas so it's just as well to call a few days prior to arrival.
It is also possible to make just a day trip there although this makes for a very long day, especially if you also intend to visit Cheow Lan Lake which is further away than the Khao Sok main Park hQ. If you are driving there you will find excellent, no-nonsense directions from Alan hunter<LINK>.
There are several restaurants outside the park but the choice once inside is likely to be severely limited, so if you are a fussy eater or not keen on the basic Thai fare that many of the restaurants provide then you may want to bring some snacks into the Park with you. Remember if you do to take all garbage away with you when you leave.
MORE INFORMATION
The traveller forums on Khao Sok on TripAdvisor.com are as good a place as any to start, or ask a around town as many locals have good knowledge of the area – or know someone who does.