Romancing Khao Lak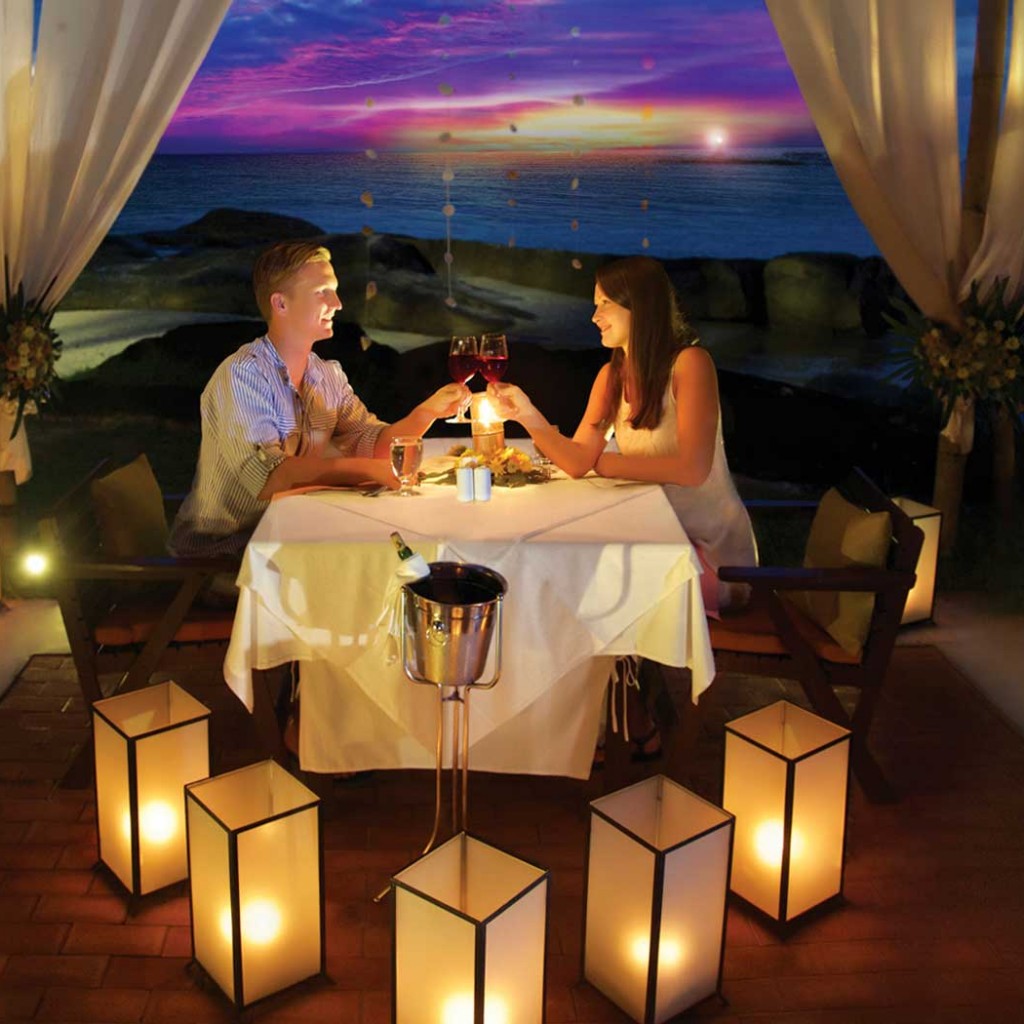 Several of the quality resorts strung along Khao Lak's 25km coastline are delighted to provide couples with uniquely romantic dining experiences showcasing the very best their establishments have to offer. Here, a couple enjoy a private dinner at 'Moonlight Rock' at the Khaolak Laguna Resort. As well as a stunning beach side location, the experience includes your very own private butler.
Romancing Khao Lak
You and your soul mate sit on your verandah of your private suite. The setting sun paints the Andaman Sea's fading blue horizon in pastels and watercolours. As the moonlight filters through the palms, and casuarina pines wave gently on the balmy air, you pour a glass of chilled champagne for your loved one while the sounds of the tropical night envelop and soften your talk of dreams, memories and love…
Whether for a honeymoon, anniversary, or a private getaway with that special person in life, Khao Lak is becoming increasingly popular with couples. While Thailand makes the short list of 'most romantic' or 'best honeymoon' destinations on many surveys, the mass-marketing machine has tended to be directed towards well-trodden and established destinations like Phuket and Koh Samui.
For Thailand-bound couples who desire more privacy, intimacy, and peace and quiet in a beautiful tropical location far away from the madding crowd and boisterous nightlife, Khaolak is the more romantic choice for several reasons, including…
1. Dream Dining
Khao Lak has fantastic dining options.With a focus on quality over quantity, Khao Lak's resorts and restaurants love to bring out that romantic side of you and will happily cater to your every desire.
Whether the fare is Thai, Italian, French, or seafood, dishes utilise the freshest local ingredients, often prepared by world class chefs and served up in an intimate and romantic atmosphere.
From a candlelight dinner on the beach with a champagne bucket and a fresh seafood barbecue or dinner under the stars next to a beautiful waterfall… everything is possible in Khao Lak!
2. Heavenly Resorts
Resorts in Khao Lak seem tailor-made for lovers – providing all the amenities, services and facilities needed to transport couples from the workaday world to a realm of pleasure, luxury and infinite possibilities.
When resort staff know that you are on honeymoon or celebrating that special anniversary, they operate under the belief that you and your lover should be pampered, soothed and served, as they say, "for good memory."
With the foundations in place, your only job is to bring your beloved to a place where holiday memories last a lifetime.
3. Tying the Knot
Khao Lak's natural charms and scenery also provide the perfect backdrop for fairytale weddings – a fact not missed on the hundreds of couples who come to the area to marry or renew their vows each year.
Khao Lak's resorts are well-versed in knowing exactly what these couples are looking for and they pride themselves on delivering dream weddings with charm, flair and efficiency – from intimate ceremonies under salas on the sands of the Andaman Sea to jubilant wedding parties with elephants on the guest list!
EDITOR'S NOTE:
We'll be looking at Khao Lak weddings in more detail in the near future – so stay tuned!
4. Nature's Playground
Finally, it's the natural beauty of the area itself – and the incredible variety of couple-friendly activities available – that makes Khao Lak quite possibly the most romantic beach destination in Thailand.
Here you can immerse yourself completely in nature, that well- spring of all things romantic.
Whether it's beach combing, swimming, diving or snorkelling at virtually untouched, pristine beaches – or losing oneself in the depths of the jungle on a safari, elephant trek or swim beneath a cascading waterfall – the sheer beauty of Khao Lak is unsurpassed, making it the ideal playground for lovers.
Oh… and did we mention the sunsets yet?