Turtle-y Amazing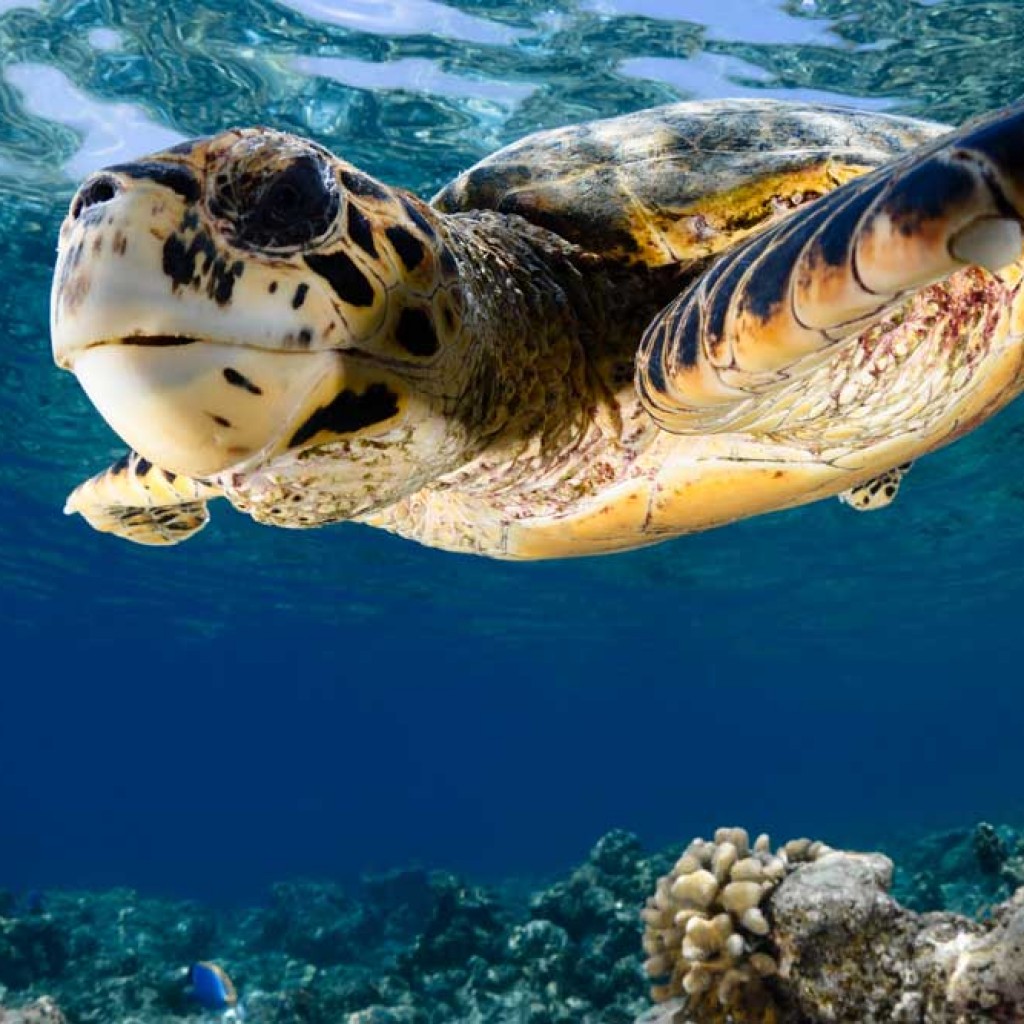 Meet Khao Lak's most loveable reptiles
The tropical waters of the Andaman Sea have long been home to at least four species of turtles. Encounters with turtles are frequent around the Similan and Surin Islands and are a firm favourite with snorkellers and scuba divers.
What's more, you do not even have to journey out to the islands if you want to get up close with these graceful sea creatures – the two main turtle sanctuaries in the area provide an informative and pleasurable way to while away a few hours especially if you are visiting with children.
Millenia before Khao Lak's endless kilometres of quiet, unspoilt beaches began to draw visitors from around the world, female turtles have been visiting these shores to lay their eggs. Several beaches in Phang Nga Province are important nesting sites for both hawskbill and green turtles.
The long beaches near the small town of Thai Muang and the beaches of Koh Phra Thong and both the Similan and Surin Islands are amongst the most important in the area for turtles.The nesting season occurs between November and March, peaking from mid-November to mid-December.
Turtle Conservation in Thailand
Hawksbill turtles are the most commonly sighted turtle in the Andaman Sea. Green turtles are less common, while sadly, leatherback and Olive Ridley turtles are becoming increasingly rare.
Despite the current worrying status of turtles, not only in Thailand but worldwide, there is hope for our local lovable reptiles. For many years, turtles in Thailand have been given legal protection and His Majesty King Bhumibhol and Her Majesty Queen Sirikit have initiated many turtle conservation projects.
Both the Royal Thai Navy and Phang Nga Coastal Fisheries Research and Development Centres are actively involved in turtle conservation.Turtle eggs are collected from nests all around Phang Nga and taken to one of the local sanctuaries to protect them from predators such as birds, crabs…and humans!
Once the baby turtles hatch they are reared in captivity a minimum age of eight months before being released into the sea.The now juvenile turtles will hopefully stand more chance of survival against ocean predators due to their increased size.
Where to See Turtles Around Khao Lak
The best and most enjoyable way to see a turtle in it's natural environment is a snorkelling or scuba diving trip to either the Similan or Surin Islands. During the high season there are numerous operators running trips to these locations from Khao Lak.
Alternatively there are two local turtle sanctuaries worth a visit. The largest is in Thai Muang, around 40 minutes drive south from Khao Lak on Highway 4. Operated by Phang Nga Coastal Fisheries Research and Development, this centre takes care of eggs laid in the surrounding Thai Muang area, rehabilitates sick or injured turtles and also has a turtle breeding program.
If there are turtles of a suitable age, for a donation to the centre you can even release your own turtle into the nearby sea.The turtle sanctuary also breeds anemone fish and other fish species some of which are sold to the aquarium trade to help fund their turtle programs whilst others are released into the Andaman Sea. So along with turtles, visitors can also see 'Nemo' and sea horses.
Somewhat closer to Khao Lak, the Royal Thai Navy's Third Fleet Sea Turtle Nursery at Thap Lamu is open to the public and just 15 minutes drive south of Bang La On (Khao Lak's 'town centre'). Infant turtles are brought there and nursed until strong enough to fend for themselves before being released into the sea.
10 Turtle-y Amazing Facts
1. Older than Dinosaurs
Turtles are one of the oldest creatures on earth. The earliest known turtle fossils date back 220 million years. To put this in perspective dinosaurs became extinct some 65 million years ago. Turtles have been around longer than other reptiles such as lizards, snakes and crocodiles.
2. Turtles love to travel
Turtles will cover vast distances during their lifetimes, especially female turtles who will travel from breeding grounds back to the beaches where they were born. Although it takes around 30 years for a turtle to reach sexual maturity, the female turtle will always find the right beach.The large leatherback turtle can travel over 16,000 kilometres every year.
3. No need to breathe
Turtles can hold their breath for hours underwater, though feeding dives usually last considerably less, between five to ten minutes. As turtles are cold blooded, the temperature of the water also greatly affects their breath holding abilities – the colder the water, the longer they can hold their breath.
4. True heavyweights of the ocean
The largest living turtle is the leatherback which can grow to a shell length of 2 metres, weighing a whopping 900 kilograms. Around the Andaman Sea, the more common green turtle can reach a shell length of 1.5 metres, weighing up 320 kilograms.
5. Even turtles cry
Turtles have special glands under their eyes that help remove salt from the water they drink.When they do so it appears like they are crying.
6. Finely-tuned swimming machines
Turtles have a hard shell that protects them like a shield, the upper shell is called a carapace. The lower portion of their shell is called the plastron. Turtles shells are streamlined for swimming through the water and with their paddle-like flippers they can swim quickly and gracefully.The green turtle can reach speeds of 56km/h. Turtles can hear vibrations in the water and also have excellent eyesight and a keen sense of smell.
7. Temperature determines sex
The gender of a hatchling turtle depends on how hot or cold their environment was during incubation. Cooler temperatures will produce males while warmer temperatures will produce females.
8. A lifetime at sea
Male turtles will spend their entire lives at sea. Unlike female turtles who return to land to lay eggs every two to four years, male turtles will likely never leave the ocean.
9. Survival of the fittest
Hatchling turtles face a treacherous journey from their nest to the ocean and many predatory dangers await them in the open seas. It is estimated that only one hatchling per thousand will reach adulthood.
A female green turtle will lay between 100-200 eggs every two to four years, presuming that is, she reaches sexual maturity.
10. Turtles are in serious trouble
All four species of turtle found in the Andaman Sea off the coast of Khao Lak are either threatened of endangered. Sadly humans pose the biggest threat to their survival.
Turtles often drown when caught in fishing nets or on longlines. Coastal development not only destroys their nesting sites, but artificial light from hotels may also attract hatchlings away from the sea. Pollution such as plastic bags are often mistaken for food such as jellyfish which, once ingested, may kill the turtle.
In many countries turtles are still hunted for their meat and their eggs are eaten.